An insight into the future of Heathrow
As it stands, Heathrow is the UK's only hub airport, and with the addition of another runway, the airport will most definitely be able to handle the expected passenger growth. The expansion project has however attracted some controversial publicity. Here Nigel Milton, Director of Communications at Heathrow Airport, answers some questions on the construction project.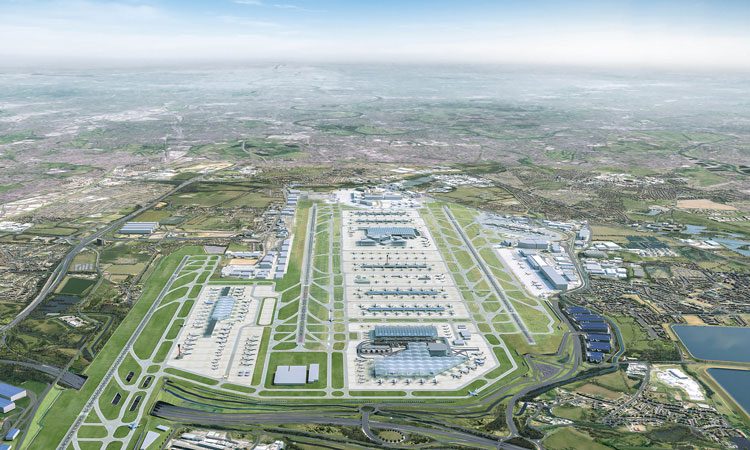 HEATHROW currently consists of four terminals and two runways, which serve approximately 80 million passengers per annum. Adding a third runway, a project that has now been approved by the UK government, is estimated to result in a passenger increase of 60 per cent, meaning that 132 million people would be passing through the airport.
The third runway has most definitely attracted attention from across the world, with environmental protestors claiming the development's negative impacts on the surrounding area – and its inhabitants – should outweigh the economic potential. But what are the facts amongst the noise?
How do the benefits of a third runway outweigh the financial and environmental costs of construction and operation?
The Heathrow expansion will inspire growth across the whole of the UK and provide extended connections across the globe. It will allow for increased domestic connections, more direct connections to new long-haul destinations and double the airport's cargo capacity; strengthening the country's trading ability at a crucial time. But we understand that economic growth cannot come at any cost and a lot of work is being done to ensure that the airport's growth is financeable, sustainable and responsible.
During construction, we will be using offsite construction centres across the country (Logistics Hubs) to deliver the expansion; creating jobs for every corner of the UK. These sites will pre-assemble components before transporting them in consolidated loads to Heathrow, helping to deliver expansion quickly and more affordably while minimising the impact on local communities.
We understand the responsibility that the aviation sector has to help tackle climate change and ensure we protect a world that is worth travelling within. We are developing an ambitious plan for carbon-neutral growth, which uses four key areas: Modernising airspace and ground operations; greater investment in sustainable aviation fuels; development of robust carbon offsetting methods; and encouraging cleaner aircraft technology. These steps will help to drive accelerated decarbonisation of aviation and ensure the costs do not outweigh the benefits.
How will you manage the effects of the new runway in terms of local residents?
We are working closely with the airport's local communities to ensure that our masterplan for expansion takes into account their views and adheres to the strict legally-binding environmental targets. We have taken onboard feedback from these groups and have developed plans which will offer guaranteed periods of respite to all the airport's local communities and a much longer ban on scheduled night flights.
Expansion is a unique opportunity to build a long-term and sustainable legacy for our neighbours and we are investing millions of pounds in the transformation of the airport's surrounding areas. Our green loop proposal will connect communities all around the airport with over 20km of dedicated walking and cycling space. This, coupled with improvements to our local public transport, will help to boost sustainable transport, making it easier for those living closest to the airport to get about.
Why is Heathrow in a better standing to receive a new runway in comparison to Gatwick?
Heathrow competes with EU hubs like Schiphol and Charles de Gaulle and is proud to play a unique role as the UK's biggest port by value, connecting our country to over 200 destinations, including 78 long-haul services operating at least three times per week. These facts played a huge role in the parliament's overwhelming vote to endorse the Airports Commission recommendation and approval of Heathrow's expansion as Government Policy in 2018.
How will you use technologies within the design of the new runway?
Heathrow has a proud history of investing in making every journey better and has been at the forefront of new and innovative technologies which will help to prepare the airport for future challenges as passenger numbers grow.
A good example is our partnership with NATS, which saw us become the first airport to trial artificial intelligence (AI) in a bespoke digital tower, testing whether the technology could be used to cut delays and boost operational resilience in times of low visibility. The AI platform has the potential to reclaim 20 per cent of the capacity caused by low cloud, boosting punctuality for passengers and reducing late runners for local residents. The combination of ultra-HD 4K cameras along with state-of-the-art AI and machine learning technology also has the potential to help controllers view the new northwest runway from one central location, instead of two separate towers.
How will the future political landscape affect Heathrow's operations?
Expanding Britain's hub airport means our country will have new, long-haul trading links after Brexit, as well as creating tens of thousands of new skilled jobs and boosting our economy by tens of billions of pounds. Delivering all of this within strict environmental limits and at no cost to the taxpayer – it's no wonder MPs gave such overwhelming support to the project.
The policy framework approved by parliament sets out both the economic benefits we need to deliver and the environmental constraints under which we must operate. Our plans will meet these requirements and given the support, the benefits and the mitigations programme in place, we are getting on with delivering this project of national importance for the country and for its future. 
Biography

NIGEL MILTON, Director of Communications at Heathrow Airport, leads Heathrow's external affairs, media and internal communications teams. His responsibilities include managing Heathrow's relations with politicians and business groups; representing Heathrow in the media and in public meetings; and liaising with stakeholders on a range of policy issues.