History made at Birmingham Airport as it records 11m passengers in 12 months
22 August 2016 • Author: Katie Sadler, Digital Content Producer
Birmingham Airport has recorded eleven million passengers over the last twelve months – the busiest period in the airport's 77-year history.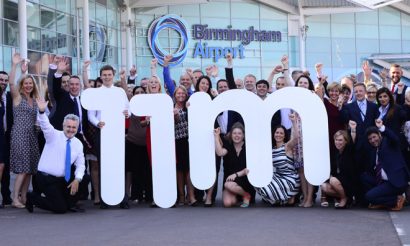 A year after breaking the ten million passenger mark last August, Birmingham Airport has once again seen unprecedented growth in traffic with eleven million passengers recorded over the last year – a 26 percent increase compared to the previous year.
Comparing the same period between 2014 and 2015, 10.2 percent more people have travelled through the Airport, due to airlines increasing capacity and launching new services to and from Birmingham.
Birmingham Airport records busiest day to date
The airport has also recorded its busiest single day to date on the 19th August 2016 when 44,767 were recorded – 14.1 percent more than the last busiest day recorded on the 13th August 2015.
Birmingham Airport's Chief Executive Officer, Paul Kehoe, said: "Reaching 10 million passengers last August was a big milestone in the airport's history but reaching 11 million is an absolute game changer. It shows that demand for flying to and from the Midlands is rapidly rising and this is only expected to continue as national and international investment in the region continues and the Midlands Engine powers on.
"We have celebrated a huge amount of accomplishments recently, including welcoming an astonishing thirteen new airlines to the airport, creating an even stronger network of global routes. We now have over 440 direct or one-stop flights globally with 50 airlines and proudly handle the magnificent A380 and Dreamliner aircraft, daily.
"The future is exciting as we focus on the next milestone – twelve million passengers – and we will be working very hard over the next year to deliver even more connectivity for our region's business and leisure travellers."
Passenger growth was witnessed on services to the Middle East (+34.1 percent), North America (+32.6 percent) and Europe (+10.8 percent). Low cost flights increased by 11.5 percent, scheduled services overall grew by 6.9 percent and charter by 2.4 percent.