Examining the use of robotics in airport customer service
24 May 2016 • Author(s): International Airport Review
In December 2015 KLM Royal Dutch Airlines became the first airline in the world to deploy a socially-aware robot to help passengers navigate their way through the airport. The trial, which took place at Amsterdam Schiphol, raises the question of whether there is a place for robotics in the customer services industry and if airports can benefit from the innovative technology.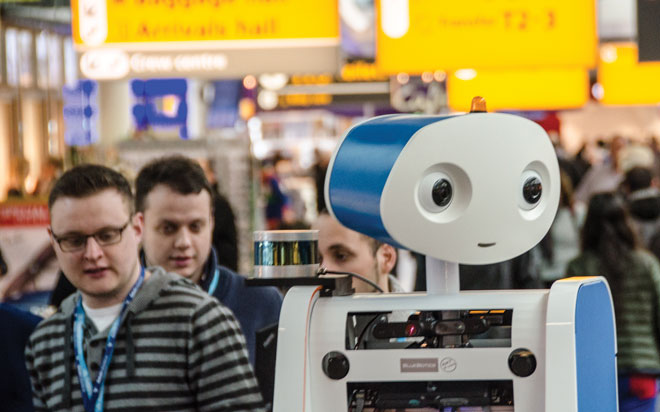 The SPENCER (Social situation-aware PErceptioN and action for CognitivE Robots) project is a European Union-funded research project aimed to advance technologies for intelligent robots that operate in human environments. Robots are not a new concept but scientists are now working to create new technologies to enable robots to analyse humans with their sensors in order to act more naturally and unobtrusively. Can robots learn and reproduce human social behaviour? How should robots communicate with users in ways that are socially aware, safe and efficient at the same time? These questions were addressed in the SPENCER project, which has broken new ground in understanding the human-robot relationship and for designing effective cognitive systems in human-populated spaces, such as airports. 
Scientifically, the novelties with SPENCER are that the robot understands social behaviour. "What makes the robot unique is that it can deal with social situations between people. It can 'see' and analyse people nearby using its sensors and can reason possible social relations between people, such as whether they are a family or travelling as a group," explains Kai Arras, Project Coordinator of the SPENCER robot project at Albert-Ludwigs University of Freiburg. This, and the ability to understand hierarchies, enables the robot to estimate what a group of travellers are doing and who would be the best individual to address in the group. Another breakthrough is the ability for SPENCER to learn socially normative behaviours, enabling the robot to be polite in the way it navigates among pedestrians and respecting people's personal space. "It can learn about – and then comply with – social rules and act in a human-friendly way," says Arras. SPENCER is also programmed to learn maps of highly dynamic environments that change over timescales.
At Amsterdam Schiphol up to 80% of passenger traffic comes from transfer passengers and every day travellers miss their connecting flights for many reasons including delays, short transfer times, losing their way and language barriers. The SPENCER robot was designed to help passengers find their way around the airport and guides transfer passengers along the shortest route to their departure gate…