Gatwick opens world's largest self-service bag drop zone
13 May 2016 • Author: Katie Sadler, Digital Content Producer, International Airport Review
Gatwick has opened what is said to be the world's largest self-service bag drop zone as part of a major project to transform the North Terminal.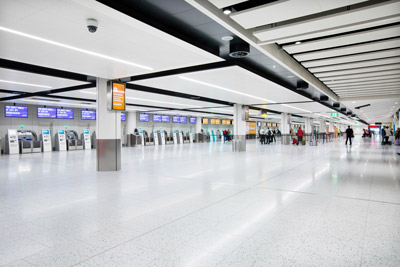 Gatwick has completed work on what is now the world's largest self-service bag drop zone. The programme is part of a wider £36 million growth strategy to introduce new technology that will speed passengers through the check-in and bag drop formalities, allowing Gatwick to handle greater numbers of passengers by increasing peak check-in capacity from 3,000 to 4,350 passengers per hour.
Self-service bag drop zone to help increase check-in capacity from 3,000 to 4,350 passengers per hour
Phase One of the project opened last October, with the final phase now complete and the full space now open for passengers.  Airline EasyJet has begun operation in the new bag drop zone moving all its South Terminal flights to the North Terminal. The consolidation will happen in January 2017 when British Airways and Virgin Atlantic will also switch their flight operations, with British Airways moving South and Virgin Atlantic moving North.
The self-service bag drop was initially trialled at the Airport's South Terminal. Results revealed queuing times can be significantly shortened by allowing passengers to take charge of their own journey through the airport.
Queuing times significantly shortened
The technology enables passengers who have checked in online to take their bags straight to a machine upon arrival at the airport, where they can print their luggage tag, apply it to their bag and load it straight onto Gatwick's baggage sorting system. Gatwick now has 60 check-in points in total with 48 of these being self-service bag drop units. According to Gatwick, the check-in process can be completed in less than two minutes.
Check-in process completed in less than two minutes
Commenting on the new facility, Gatwick's Chief Commercial Officer, Guy Stephenson said: "As we prepare for the busiest summer the airport has ever had, the full opening of this new departure level will improve the experience our passengers have at Gatwick. 
"This state-of-the-art facility is designed to eliminate queues by allowing passengers to check-in, drop off their bag and be on their way in less than two minutes.
"The continued investment we are making to transform the airport will help us to grow while we wait for a Government decision on a new runway."
On opening the new facility, Gatwick reiterated its plight for expansion. The airport highlighted that it had already reached the 40 million passengers per year milestone, more than 10 years ahead of predictions.  With continued growth expected, the Gatwick believes it is vital to invest in the airport's transformation while it waits to hear if it is successful in its bid for a second runway.
International Airport Review is proud to work with eezeetags, the  supplier of the innovative baggage labels which are being used in Gatwick's largest self-service bag drop zone.