Manchester Airport and Aebi Schmidt
Manchester Airport recently released a comprehensive, high profile and technically detailed tender document…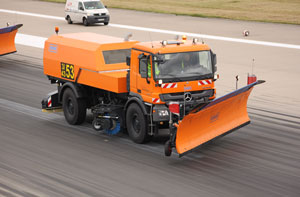 Compact Jet Sweeper
Manchester Airport is the third busiest passenger airport in the UK with around 19 million passengers annually. The Airport is owned by the Manchester Airports Group (MAG), which also owns East Midlands and Bournemouth Airports.
Manchester Airport recently released a comprehensive, high profile and technically detailed tender document for the supply of specialist snow clearing equipment to ensure that it was best placed to clear snow and ice from its runways, taxi -ways, aprons and stands during the cold winter months. The tender required suppliers to recognise and overcome Manchester Airport's unique layout .
A number of the world's leading manufacturers were invited to tender and after a successful assessment and evaluation process, a five year contract was awarded to Aebi Schmidt UK to initially supply six specialist Compact Jet Sweepers (CJS).
Key Account Manager Mike Moore said; "The Compact Jet Sweepers are proven and capable machines and will do an excellent job to satisfy this very specialist role. The use of conventional Tow Jet Sweepers was seen as unsuitable for such specialist requirements and consequently the tender recognised the need for a highly maneuverable, easy to operate, powerful, safe and agile machine to do the job. The flexibility of the CJS means they can also perform several different duties, be used across the MAG group of airports and offer a standard operational system for the drivers."
Aebi Schmidt's technically advanced machines are specifically designed for airports to de-ice and clean all runways and the apron, as well as all remaining airfield surfaces. Aebi Schmidt's nationwide service and maintenance operation includes fast response Field Service Engineers, in-house and on-site product training and a centrally controlled parts service which is backed up by Aebi Schmidt's exclusive Total Lifetime Care (TLC) promise. TLC delivers a level of service that meets and exceeds Customers' demands and expectations and maximises the life and value of the product. The full range of support services includes parts identification and supply, product technical support and onsite engineering assistance, through to operator and technician training.
Mike added "The Compact Jet Sweepers will be delivered and ready for operation in November 2012. The CJS also have a minimum life time operational use of at least 10 years and are supplied with a comprehensive "Bumper to Bumper" warranty."
Related airports
Related organisations
Related people