2013 change in leadership at ERA
Posted: 8 June 2012 | European Regions Airline Association (ERA) | No comments yet
After more than 25 years as the head of the European Regions Airline Association (ERA), Director General, Mike Ambrose is to retire at the end of 2012…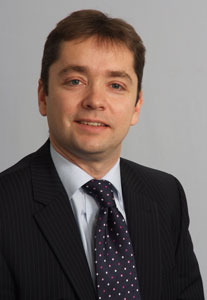 Simon McNamara, ERA
After more than 25 years as the head of the European Regions Airline Association (ERA), Director General, Mike Ambrose is to retire at the end of 2012. The recommendation of a committee* appointed by the ERA Board to find a successor was accepted by the ERA Board at its meeting yesterday in Venice. The Board agreed that Simon McNamara, currently Ambrose's deputy, would take up the post from the beginning of 2013.
Ambrose took up his current post in 1987 after spending more than 20 years at British Airways. His first task was to transfer ERA's office in Geneva to the UK and then, progressively, to build ERA into the energetic and influential body that it is today.
Looking back on his time in his current post Ambrose immediately acknowledged the tremendous good fortune that he and ERA's members have had in establishing and maintaining such a strong and highly motivated team within the ERA Directorate. "It has been a privilege and a pleasure to work alongside such talented people within our membership and within the Directorate's small team. Whilst 1992, which saw the final liberalisation of air transport in Europe, can be viewed as a high point for the regional sector of the industry, subsequent new regulations have underlined the need for constant commitment to protect and promote ERA's members' interests" he commented. "If challenges are to be seen as opportunities, we are now inundated by new opportunities. I am delighted that the Board has decided to appoint Simon McNamara to take on the role to tackle the issues that are so critical for our sector's future wellbeing" he concluded.
"Mike has played a key role in defending the interests of European regional airlines and, as a result, the regions of Europe that we bring together. His hard work and investment over the last 25 years have greatly contributed to making ERA what it is today: a highly regarded Association that works constantly to promote the economic, social and environmental aspects of air transport. I would like to express to him the sincere gratitude of all the members of the Association. Next year, when Simon takes over, it will be up to him to help the profession meet the challenges it faces. His qualities and his knowledge of the issues will, I am sure, enable him to champion the cause of the Association. On behalf of all the members, I wish him every success," said Marc Lamidey, President of ERA.
Commenting on his appointment, Simon McNamara acknowledged the contribution that Mike Ambrose has made to the Association and the exciting challenges ahead for ERA. "Mike has devoted an incredible amount of energy and enthusiasm to ERA that has made it the force it is today," he commented. "I am very excited and honoured to have been given the opportunity to now lead the Association. Our industry faces huge challenges, but I am confident that ERA, as a powerful, relevant and influential Association can ensure our sector remains well served in the future and I look forward to driving that ambition forward."
* Comprising airline presidents, Boet Kreiken/KLM CityHopper, Malcolm Hart/Aurigny, Antonis Simigdalas/ERA Immediate Past President, Roland Wondolleck/Airport Director, Rotterdam, and chaired by ERA Vice President Malcolm Isler/Luxair
Related organisations
Related people