15th consecutive month of growth at Gatwick
Passenger numbers for the 12 months ended 31 March 2012 increased by 6.9…

Passenger numbers for the 12 months ended 31 March 2012 increased by 6.9.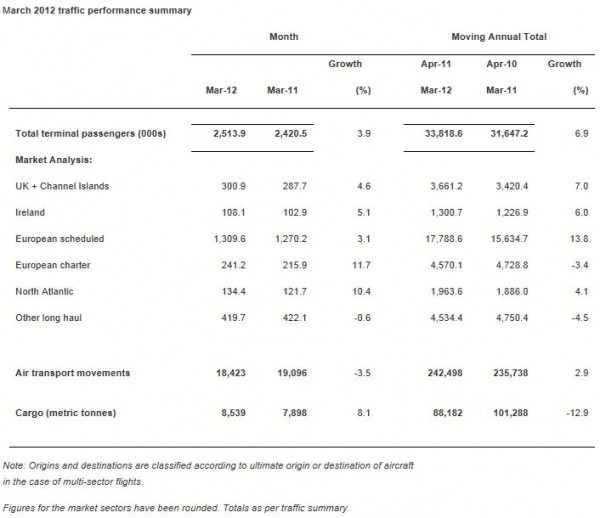 Key Points:
 Passenger numbers increased by 3.9% year-on-year, rising by 93,400 compared with March 2011.
– Gatwick continues to see growth in short haul markets especially from low cost carriers.
– Reductions in long haul capacity by charter airlines partially offset by the introduction of new carriers from Asia
Achieved strong load factors for March of 80.3%, up 5.1 percentage points on the prior year, with strong performance continuing across all market sectors.
– Performance helped by the earlier Easter holidays in 2012.
Air traffic movements were down 3.5% year-on-year due largely to reductions in charter operations.
Passenger numbers for the 12 months ended 31 March 2012 increased by 6.9%. Adjusting for one-off events in the prior year, most notably the eruption of Eyjafjallajökull in Iceland, underlying traffic growth is estimated at 3.0%.
– The prior year was also affected by industrial action at British Airways, operational issues across easyJet's network, continental European air traffic control strikes and heavy snowfall across the UK in November and December 2010.
– Air transport movements were higher than in the prior year with the events noted above having the most significant impact.
Italian based low cost airline Air One commenced a double daily service between Gatwick and Milan at the end of March 2012. Hong Kong Airlines commenced a daily service to Hong Kong in early March.
Korean Air is scheduled to commence flights to Seoul at the end of April and Air China is scheduled to commence services to Beijing at the beginning of May.
Stewart Wingate, Chief Executive of Gatwick Airport said: "This has been a successful year for Gatwick, having achieved passenger growth every single month despite the economic headwinds being faced in our industry. We have been competing vigorously with other London airports including Heathrow, Stansted and Luton and we have been winning new routes to the UK's key trading partners, providing direct connections between London and high growth economies.
"In this last year, Gatwick has attracted new routes to South Korea, Turkey, Vietnam, Hong Kong, China and the Caribbean. We continue to provide connections to closer destinations with new routes to Germany and Iceland, and we have seen growth from some of our established carriers including easyJet and Norwegian Air Shuttle. Gatwick's improving connections should help to maintain London's role as a major hub."
Related airports
Related people