New route launched between London Heathrow and Newquay Airport
A new route out of Cornwall Airport Newquay to London Heathrow, operated by FlyBe, will see Cornwall connected to the rest of the world with global connections out of the hub.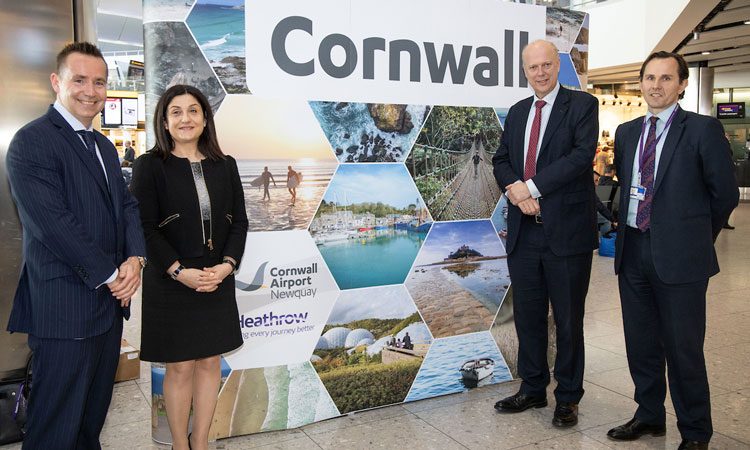 From left to right: Al Titterington (Cornwall Airport Newquay's Managing Director), Christine Ourmières-Widener (Flybe CEO), Chris Grayling (Secretary of State for Transport,) and Ross Baker (Heathrow's Chief Commercial Officer)
London Heathrow has welcomed the new Flybe route from Cornwall Airport Newquay; the year-round service operates from Heathrow Terminal 2: The Queens Terminal offering four flights a day, seven days a week.
On arrival at Heathrow, the plane was met by Secretary of State for Transport, Chris Grayling, Chief Commercial Officer Ross Baker, and Flybe CEO, Christine Ourmières-Widener for a joint visit to a special stand hailing 'all things Cornish'. This featured as stand with Cornwall travel booklets and complimentary goody bags were offered to passengers transiting through Heathrow Terminal 2: The Queen's Terminal.
Mr Grayling said: "The new route from Cornwall to our national hub airport offers significant opportunities for local businesses and people and will help boost tourism across the South West. It's great to see this new route launched with help from the government, as we work to build a better connected UK."
Ross Baker, Chief Commercial Officer at Heathrow, said: "This route highlights our commitment to domestic connectivity and it is fantastic to welcome this regular service between Newquay and Heathrow. Joining our regions to the UK's only hub airport marks a fantastic opportunity for many including exporters from Cornwall now connecting to global markets and inward investors, tourists and students from all over the world. Now they can all experience the wonders the region has to offer in a much easier and convenient way."
Ourmières-Widener, commented: "We are delighted to celebrate with our partners the start of our new Heathrow service from Newquay. There has been an overwhelmingly positive response from customers since we announced the route. It offers multiple choices for onward connections to and from the rest of the world from the UK's  busiest airport – and also on to our own routes there to and from Aberdeen and Edinburgh, Guernsey and the Isle of Man."
In further comment on the new route, Cornwall Council Cabinet Portfolio Holder for Transport, Geoff Brown said that "the new route to the capital operated under a Public Service Obligation negotiated by Cornwall Council and supported by the government, will provide passengers with hundreds of links to global destinations opening up new travel and business opportunities".
Cornwall Airport Newquay's Managing Director, Al Titterington, said: "It's fantastic that all our hard work to make sure that Cornwall Airport Newquay has direct access to Europe's busiest hub has finally come to fruition. The worldwide connectivity that this brings opens up a world of opportunity for Cornwall. Now we have direct flights to Heathrow, we will see the strength of Newquay and Cornwall's brand abroad grow even further, helping to attract more valuable international tourism to our beautiful county."