Halifax Stanfield once again rated among best in the world
Posted: 17 February 2012 | Halifax Stanfield International Airport (HSIA) | No comments yet
HSIA has once again been rated by its passengers as one of the best airports in the world…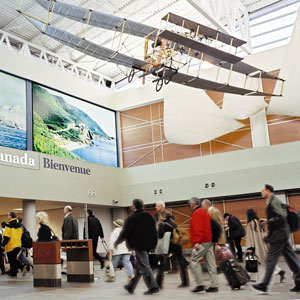 Halifax Stanfield International Airport (HSIA) has once again been rated by its passengers as one of the best airports in the world.
The 2011 global Airport Service Quality (ASQ) ratings show Halifax Stanfield as third best in the world for overall passenger satisfaction in its class (under five million passengers). Guayaquil (Latin America & Caribbean Region) came first and Ottawa was second.
Halifax Stanfield also placed third in North America behind Ottawa and Indianapolis. The ratings are administered by Airports Council International (ACI). The ASQ survey measures 34 separate elements of passenger airport experience and how well each element satisfies passenger expectations.
"Customer service comes down to creating a positive experience during those one on one encounters with travellers and visitors," says Tom Ruth, Halifax International Airport Authority President & CEO. "The people who work at Halifax Stanfield understand this, and put it into practice every day. A friendly smile, a helping hand, a warm welcome – these kind gestures leave a lasting positive impression."
Through its years in this global airport ranking program, HSIA has earned a total of 28 awards – 16 first place, eight second place and four third place.
In addition to this recognition, HSIA has been inducted into Airports Council International's Director General's Roll of Excellence, honouring airports that have ranked among the top five airports in the world for five consecutive years in the Airport Service Quality ratings.
As well, HSIA has been re-certified as ASQ Assured – a distinction earned by only 14 airports world-wide.
"We are also very gratified that Halifax Stanfield's scores have improved steadily since we joined this program nine years ago," noted Ruth. "This continual improvement is a testament to the dedication of everyone who works and volunteers at Halifax Stanfield. Our commitment to superior service is one of our most important shared values that continually enhances our global reputation for excellence."
Mr. Ruth will represent Halifax Stanfield when it is officially recognized for these achievements at the ACI Asia-Pacific conference in Singapore in May.
For more information about the ASQ Awards visit www.airportservicequalityawards.com.
Related airports
Related people