Canada and Central America agreement to improve aviation safety
Canada has agreed to cooperate with Central American and Caribbean States on Accident and Incident investigations (AIG) matters to improve regional safety.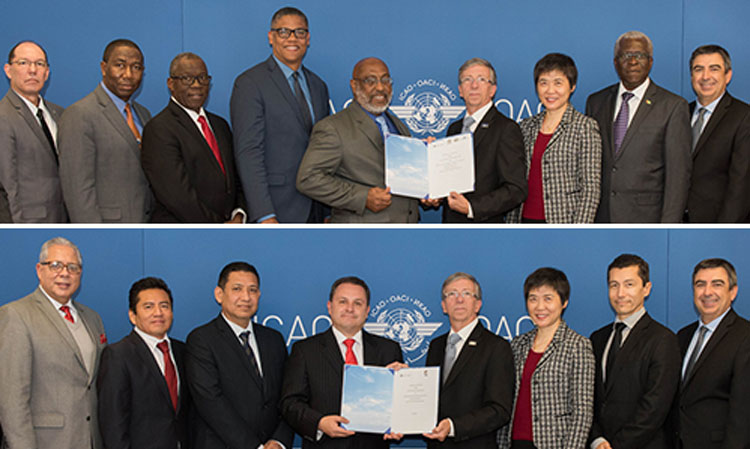 Representation of the Caribbean Aviation Safety and Security Oversight System (top photo). Representation of the Central American States (bottom photo)
In order to promote regional collaboration in support of the timely and appropriate investigation of incidents and accidents, Canada entered into a memoranda of understanding (MoU) with Caribbean and Central American States at a special ceremony at ICAO Headquarters last week.
In the presence of ICAO's Secretary General, Dr. Fang Liu, Canada's agreement was undertaken by Mr. Pierre Gavillet of the Transportation Safety Board of Canada (TSB), on the behalf of its Chair, Ms. Kathleen Fox.
The Caribbean MoU was signed by Mr. Anthony Kirchner, Deputy Director Department of Civil Aviation of Aruba; Mr. Charles Beneby, Director General of the Civil Aviation Authority (CAA) of The Bahamas; and by Mr. Francis Regis, Director General of the CAA of Trinidad and Tobago, who also represented the Caribbean Aviation Safety and Security Oversight System (CASSOS).
The Central American MoU was signed by Mr. Juan Carlos Trabanino, the Executive President of Corporación Centroamericana de Servicios de Navegación Aérea (COCESNA), in representation of the Central American States. The signing ceremonies were attended by Mr. Julio Siu, in his capacity as the Deputy Regional Director of ICAO's North American, Central American and Caribbean Regional Office, which played a pivotal role in the coordination of these agreements.
The Caribbean States participating in the MoU are Aruba, the Bahamas, and the members of CASSOS (which include Antigua and Barbuda, Barbados, Dominica, Grenada, Guyana, Haiti, Jamaica, Saint Kitts and Nevis, Saint Lucia, Saint Vincent and the Grenadines, Suriname, and Trinidad and Tobago.) The Central American States participating in that MoU are the member States of COCESNA: Belize, Costa Rica, El Salvador, Guatemala, Honduras, and Nicaragua.
These agreements focus on compliance with the mandates described in Annex 13 – Aircraft Accident and Incident Investigation and Annex 19 – Safety Management of the Convention on International Civil Aviation, and the need for States to ensure the independence of investigations.
These MoU also pertain to the importance of Regional Accident and Incident Investigation Organisations (RAIO) in this regard: the Central American Regional Aviation Accident Investigation Group (GRIAA) and the Caribbean Regional Accident Investigation Organisation (RAIO-C).