Hurricane Florence grounds flights as storm hits land
As evacuation from the Carolinas has become mandatory, airports and airlines have grounded flights as the Hurricane passes through the States.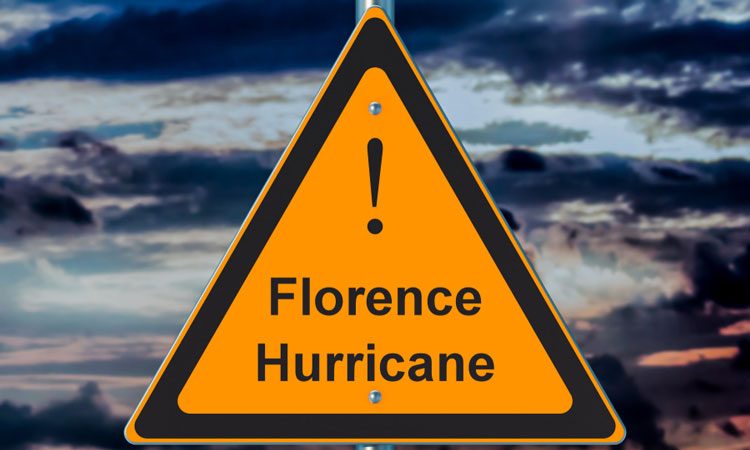 Delta Airlines
Delta has proactively cancelled approximately 85 flights, primarily scheduled for Thursday 13th September 2018, to and from cities along the storm's path as Hurricane Florence continues its approach to the Carolina coast.
Airports in Charleston, S.C., Fayetteville, N.C., Jacksonville, N.C., and Wilmington, N.C., announced they will close Wednesday 12th September 2018 evening after the arrival of most flights and will remain closed through Thursday 13th September 2018, possibly longer.
Adding more seats to the schedule before Florence's impact is part of Delta's effort to help residents leave the area ahead of the storm, which is expected to bring rainfall totalling more than 20 inches and destructive winds projected to reach speeds of over 100 mph around Wilmington, N.C., and Myrtle Beach, S.C. Delta has a history of adding flights and up-sizing aircraft before storms to help evacuation efforts as well as providing additional cargo and passenger capacity after storms to aid in relief efforts.
The airline remains in constant contact with local airline employees and leaders to address the needs of customers and employees as they face the Category 3 storm.
Delta has already sent critical supplies such as water, satellite phones for use in case cellular networks are disrupted, and other devices to help employees operate ticket counter and gate functions in the event of power outages.
A customer service employee Go Team is at the ready to travel to the most affected airports if necessary to provide assistance to restart flight operations once airports reopen.
Delta leaders emphasised employee safety during an operational briefing Wednesday afternoon, as one leader said: "Nothing is more important than taking care of our employees and customers. Make sure you're in a safe place to ride out this storm well in advance of this storm impacting your location. Look at emergency action plans and ensure you're prepared."
John Laughter, Delta's Senior Vice President of Safety, Security & Compliance, added: "Put your own safety and your team's safety first. That's the best way we can support ourselves and our customers."
Charleston International Airport
Our reliever airports, Mount Pleasant Regional Airport and Charleston Executive Airport on Johns Island, will close at 5 p.m. (12th September 2018) until Hurricane Florence has passed and it is safe to reopen. A Notice To Airmen (NOTAM) will be issued noting "no fuel available" during this time.
Rapidly changing conditions associated with the path of Hurricane Florence will affect general aviation and commercial air service operations at Charleston International Airport at least through Friday 14th September 2018. 
Joint Base Charleston will close the runways at Charleston International Airport 12th September 2018 at 11:59 p.m.  
Paul Campbell, CEO and executive director of the Charleston County Aviation Authority, said he expects the Air Force could reopen the runways at seven a.m. Saturday, 15th September 2018 allowing air service to resume. He cautions, however, that exact time the runways are reopened depends on the storm's path and impact on the area.
The Air Force owns the two runways at CHS and provides emergency fire and rescue services for all commercial and general aviation aircraft taking off and landing. Those Air Force personnel are following the directive of the governor to evacuate.
Campbell said: "The safety of our passengers and airport employees is our no. 1 priority. We cannot safely continue flight operations without crash, fire and rescue services available. The runways will reopen when the Air Force determines it is safe, and that depends on the impact Hurricane Florence has on the area."
CHS is served by eight airlines. Some have already cancelled flights through Friday. Others will continue operations today (12th September 2018) until the runways are closed. Customers should contact their air carrier for information on cancellations and for re-booking assistance.
Out of an abundance of caution, the Air Force has issued a Notice to Airmen (NOTAM) that the airfield will be closed until Monday (17th September 2018). However, the base personnel are committed to reopen the runways as soon as possible. The Air Force has the power to lift the NOTAM at any time.
The airport terminal building remains open but it is not certified hurricane shelter. The airport is not equipped to provide food, emergency or medical care or other services required of a shelter. The public should not stay in the airport during the storm. Airport parking facilities will remain open so passengers who are able to return to Charleston may pick up their vehicles. The next update is expected late afternoon Friday 14th September 2018.
Fayetteville Regional Airport
Fayetteville Regional Airport is preparing for the potential effects of Hurricane Florence and will provide updates on flights and airport services throughout the duration of this storm.
Currently, all flights for American Airlines have been cancelled for Thursday, Friday and Saturday. The last outbound flight will depart at 6 p.m. on Wednesday,12th September 2018 Flights are currently scheduled to resume on Sunday 16th September at 8 a.m.
United Airlines have cancelled all flights for Thursday and Friday. The last outbound flight will depart at 3:30 p.m. on Wednesday, 12th September 2018. Flights are currently scheduled to resume on Saturday, 15th September at 2:25 p.m.
Delta Airlines is cancelling all flights for Thursday. The last inbound flight will arrive at 7 p.m. on Wednesday, 12th September 2018 Flights are currently still scheduled for Friday, 14th September Delta continues to monitor conditions and will announce cancellations and/or delays as the storm approaches.