Construction begins on Canada's Nanaimo Airport terminal expansion
Nanaimo Airport's expansion is much needed, with the airport breaking its records for passenger numbers for eight consecutive years.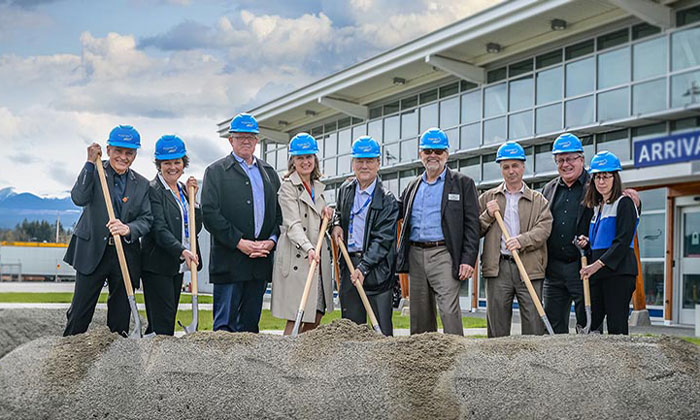 GROUNDBREAKING: Construction begins
Work has begun on a terminal expansion at Canada's Nanaimo Airport (YCD) on Vancouver Island. The CAN$15-million project will see the terminal building expanded by 60 per cent or 14,000 square feet. The increase in space in the security area is expected to allow passengers and their baggage to move faster through screening. The departure lounge will also be doubled in size to about 320 seats.
It is the result of a partnership between Nanaimo Airport Commission, and the federal and provincial governments. Each government has contributed $2.48 million to the work, the largest in the airport's history.
"We are 10 years ahead of passenger forecasts and this investment will help us expand to ensure we continue to deliver great service to our customers," said Lucie Gosselin, Board Chair of Nanaimo Airport.
"The Nanaimo Airport Commission appreciates the support provided by the Government of Canada and the provincial government for public infrastructure projects through the New Building Canada Fund – Small Communities Fund Programme."
"As the Central Island's gateway to the world, we know hundreds of thousands of people rely on us for safe, convenient and comfortable travel," said Nanaimo Airport CEO and President Mike Hooper. "We have carefully planned this expansion to ensure we continue to provide exceptional customer experience during the construction period. By expanding we'll be better able to meet the needs of our region today and for the next generations."
Pre-construction has begun on the site, with an expected completion date of 2020.
Last year, the airport finished work on its runway apron and lighting to help prepare for the expansion.
"This project creates more opportunities for travellers, business owners and investors," Hooper added. 
"It will help us as we continue to pursue more air service for central Vancover Island. It provides more space, potentially more customers, for new businesses to partner with us, and it will spur land and business development at the airport that attracts investors from around the world."