Memphis closes concourse to allow for "milestone" modernisation
In a significant step in its concourse modernisation project, Memphis International Airport (MEM) closed its B Concourse for construction on Wednesday, April 4.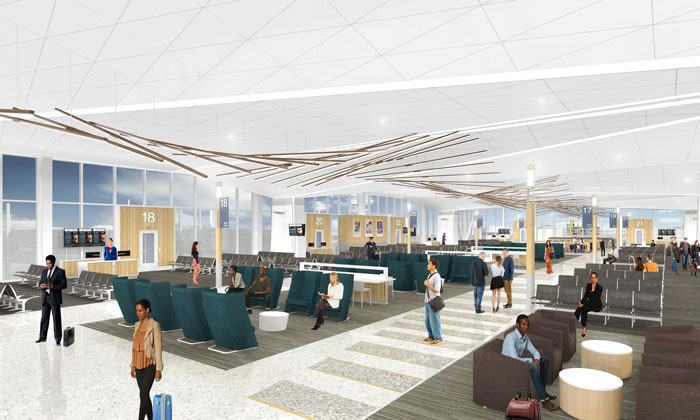 COMING SOON: A mock up of the concourse development in Memphis
The multi-year, multi-phase modernisation plan will include the addition of wider corridors, moving walkways, larger boarding areas, higher ceilings and increased natural lighting. Additional amenities and concessions options will also be added. It will allow MEM to perform "much-needed, seismic upgrades" to the B Concourse.
"This is a huge milestone for our modernisation project," said Scott Brockman, President and CEO of the Memphis-Shelby County Airport Authority (MSCAA). "The end result will be a new state-of-the-art facility that will lead to a more efficient and 'positively MEMorable' travel experience for our passengers and a wonderful 'front door' to our community."
Airlines, restaurants, and retail businesses will operate out of the A and C Concourses until the project's expected completion in 2021.
The immediate changes resulting from the closure of B include:
Delta Air Lines will begin operations on the A Concourse on Wednesday, April 4. Delta will utilise six gates on A: A17, A19, A21, A23, A25 and 27.
Allegiant will begin operations in the C Concourse on Thursday, April 5 (Allegiant does not operate on Wednesdays) and will utilise gates C2 and C4.
The international arrival gates at B41, B42 and B43 and U.S. Customs office will remain in operation in B. Passengers will be bussed to the baggage area after going through customs.
Lenny's Subs will move from the B Concourse to the A Concourse, near gate A23.
A new Italian-themed restaurant, Torn Basil, is expected to open by the end of April near gate A27.
A new Blue Moon kiosk bar will be added near gates C1 and C3 later this year.
The airport is currently engaged in the bidding process for the B Concourse construction. The four pre-qualified prime contractors are preparing their pricing and construction teams and if pricing is within available funding, the selection is expected to be submitted to the Memphis-Shelby County Airport Authority Board of Commissioners in June, with actual construction to begin in July.