Edinburgh Airport says goodbye to secondary runway
Two Royal Air Force veterans who learned to fly at Edinburgh Airport have marked the closure of the airport's secondary 12/30 runway.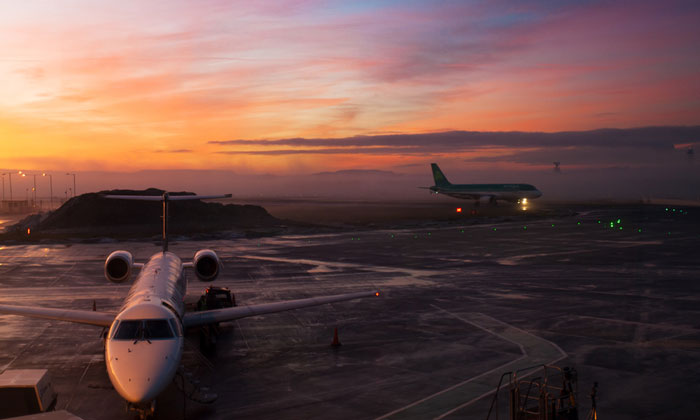 WASN'T IT JUST YESTERDAY: Edinburgh Airport at sunset
Initially known as Turnhouse Aerodrome, it opened in 1916 and was a key military base during World War One before the Ministry of Defence took ownership and changed the name to RAF Turnhouse in 1918.
It was then used by RAF Fighter Command when World War Two broke out and the runway was paved to accommodate Spitfire aircraft, with a number of squadrons being based here.
The Edinburgh University Air Squadron (EUAS) was also based at RAF Turnhouse during the 1950s and 60s with flying training to offered to undergraduate students.
The runway was regularly used until a new, longer runway (06/24) opened in 1977 and remains the main one to the present day.
The secondary runway is now only used as a taxiway and closed earlier this week before being redeveloped as part of a major redevelopment of that part of the campus.
Dr. Hamish MacLeod flew with the Edinburgh University Air Squadron 1958 to 1961, and actually landed on 12/30 in 1999 in an aircraft he built with Bill Goodburn, a close friend and fellow squadron member. He said: "I and many others had some of our best times here, there was great camaraderie with everyone and we were lucky to have A1 instructors, several with World War II combat experience.
"It's sad to see the runway close but things have to progress, and it's been nostalgic to come back because RAF Turnhouse means a lot to an awful lot of pilots who trained here."
Wing Commander (Retd) George Robertson learned to fly with Edinburgh University Air Squadron (EUAS) at RAF Turnhouse between 1959 and 1964 and said:
"Hamish and I both learned to fly here and did our first solo flights on this very airfield, and it holds very special memories for both of us.
"It was those experiences which set me up whole career in aviation and I'm very grateful for that experience. I went on to become a commercial pilot and have flown in and out of Edinburgh airport many times over a number of years, so it's very nostalgic to see this runway closing but I guess time moves on."
Gordon Dewar, Chief Executive of Edinburgh Airport said: "We have a proud history here and the 12/30 runway holds a lot of special memories for many people, and it's only right that we mark this special occasion.
"It was key military base where people showed the utmost bravery and even paid the ultimate sacrifice. Friendships were created, bonds were formed, most of which would last a lifetime, and they remember our campus fondly.
"As time has gone on and technology has advanced, the 12/30 runway has moved out of regular operation but the part it has played in our history has never been forgotten. Its past will always be remembered, and it has an exciting future ahead of it."