Autonomous snowploughs make their debut at Norwegian airport
A team of autonomous snowploughs have made history by taking on the elements at an airport in the midst of a Norwegian winter.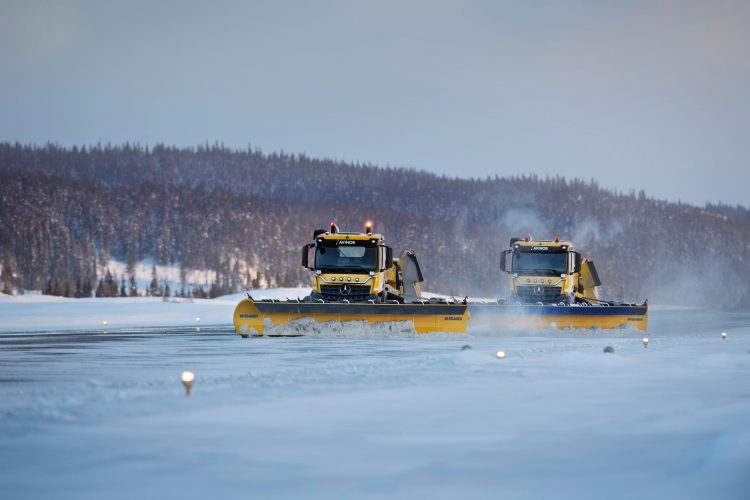 YETI: Autonomous vehicles are making waves airside
It's a dull job clearing snow from runways, but someone's got to do it. Or not, as the case may be.
For the first time, self-driving snowploughs have graced the tarmac of an airport.
On March 19, a team of them, measuring 20 metres long by 5.5 metres wide, were unleashed on the powder at Fagernes Airport in Leirin, Norway, a tiny airport 200 kilometres North of Oslo.
The project was developed by Yeti Snow Technology, co-owned by Semcon and Øveraasen, for Norwegian airport operator Avinor.
The snowploughs have enough capacity to clear an area of 357,500 square metres an hour. One unique feature of these autonomous vehicles is that they can clear snow in formation, several vehicles working together.
"Autonomous snowploughs will allow airports all over the world to streamline their activities and reduce delays for their passengers. This is a good example of how autonomous vehicles can increase profitability and add value for people," said Markus Granlund, CEO at Semcon.
 "We have designed a control system that sets up digital patterns for autonomous snow clearance at airports. The system can then download these patterns and monitor a number of vehicles that navigate using RTK GPS, an accurate form of position measurement, and communicate using 4G modems," added John Emil Halden, Semcon project manager.
Clearing snow from runways can be a time intensive and demanding procedure. The writer of an article in the technology magazine Wired interviewed JFK's former Airport Operations Manger, Robert Junge who said that during a significant winter storm it takes six snowploughs 45 minutes to clear the runways. The fleet sprays 17,000 gallons of chemicals, costing US$136,000 in total.
Whilst automation would not necessarily reduce the cost of the chemical, it stands to make the process less time consuming and therefore cut the disruption to flights. This may not be hugely significant at an airport like Fagernes which sees comparatively little traffic, but in JFK it could be a welcome boost.