Business jet firm expands operation at Appleton International Airport
A business jet designer and manufacturer is increasing its Wisconsin operations with a new $40 million repair and overhaul facility at Appleton International.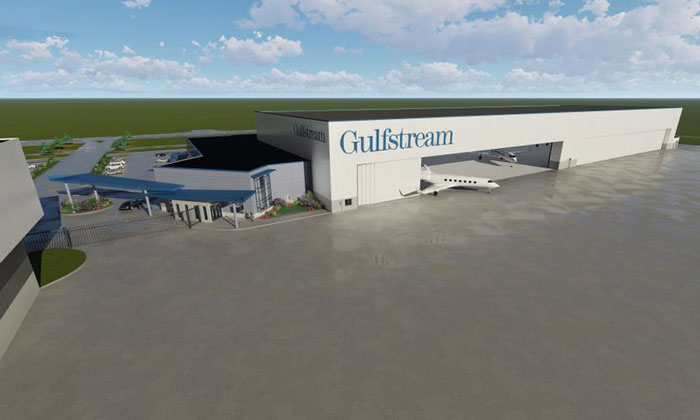 REPAIR AND OVERHAUL: A 3D rendering of the facility
Business jet company Gulfstream Aerospace Corporation has announced plans to build a new service centre at Wisconsin's Appleton International Airport. 
The development will add to its existing hanger and office space and is expected to begin operations in the second quarter of 2019, creating approximately 200 jobs.
Gulfstream will develop a $40 million, 16,723-square-metre maintenance, repair and overhaul facility northeast of the airport terminal. It will include a hangar, offices, back shops and support space. The expansion will boost the number of employees at Gulfstream Appleton to more than 1,000. Groundbreaking is scheduled for the second quarter of 2018.
"This is the most significant expansion we've had in Appleton in the nearly 20 years we've been there," said Derek Zimmerman, President, Gulfstream Product Support.
"The demand for our outstanding service business is growing, so this added maintenance capacity and additional jobs are great news for our customers and the community. These added resources will further enhance the world-class service and support this site is known for in the industry."
A company site since 1998, Gulfstream Appleton is home to a service centre and large-cabin completions facility spread over more than 315,500 sf/29,310 sq m. In 2017, employees there completed 582 aircraft visits, including road trips, to support customers at regional airports.
Gulfstream Appleton offers services including inspections, structural modifications and major avionics installations and safety upgrades. It is a certified U.S. Federal Aviation Administration and European Aviation Safety Agency repair station, and also has maintenance approvals from Bermuda, Canada, the Cayman Islands, China, Nigeria, Saudi Arabia and the Isle of Man.