Cornwall Airport sees second year with more than 20 per cent growth
Though the result may see it named fastest growing UK airport, many have yet to publish their figures and its nearest rival last year, Doncaster Sheffield, could still beat it to the post.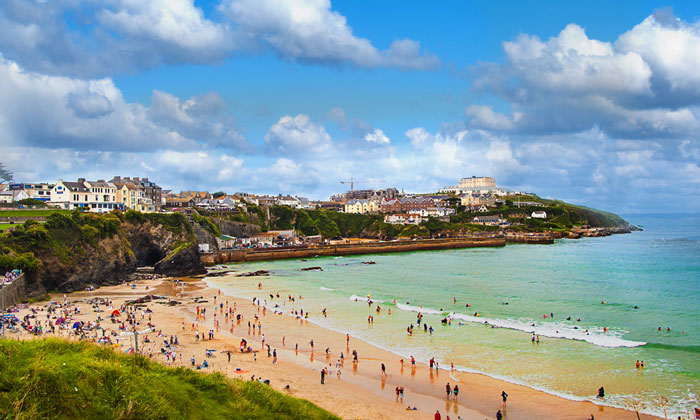 BREAKING THE SEASONAL RUSH: This year, Cornwall saw more December traffic, showing it was beginning to break away from its seasonal flows
Cornwall Airport Newquay saw a 22 per cent increase last year, a figure which could make it the fastest growing UK airport for the second year in a row as other hubs publish their figures. The total numbers for the year have been recorded as 453,795.
Last year, it achieved a 47 per cent growth making it the fastest growing airport in the UK by a margin of less than a per cent on Doncaster Sheffield. This year, it is likely that the two will come close again in the rankings though the latter has yet to reveal its results.
Al Titterington, Managing Director at Cornwall Airport Newquay said: "What's really positive in the 2017 stats is the huge spike in the winter passenger numbers. Experiencing our busiest ever December shows that our hard work over recent years to break down the seasonality of the airport is starting to pay off."
In 2018, one new scheduled route has been added to the summer programme (Stuttgart with Eurowings) as well as a new charter operator (Super Break) offering services from Cornwall for the first time, with the first charter to Seville operating in March.
The airport has welcomed the recent announcement by London Heathrow that they will reduce airport charges for domestic travellers with effect from January 1 2018. This further shows Heathrow's commitment to regional connectivity and the support that they are going to give to routes that connect regional airports such as Newquay to the nations' international hub airport.
Al Titterington added: "It is a long standing ambition of ours to get a connection between Cornwall Airport Newquay and London Heathrow. The support we get from Heathrow is key to us achieving this so we very much welcome this further positive move from them in this respect."
The number of hire cars rented from the airport over the year. Over 18,000 cars were hired which is a 16 per cent increase on 2016. The airport site now employees over 600 people directly, making it one of the larger employee sites in Cornwall. Aircraft Engineers, Pilots, Air traffic Controllers, Flight Training Instructors, Security Personnel and fire fighters are just a few of the skills employed on this diverse aviation site.