Swiss-French government clarify joint airport tax regime
The Swiss and French governments have agreed on a new tax regime at a shared airport, EuroAirport Basel Mulhouse Freiburg, starting this month.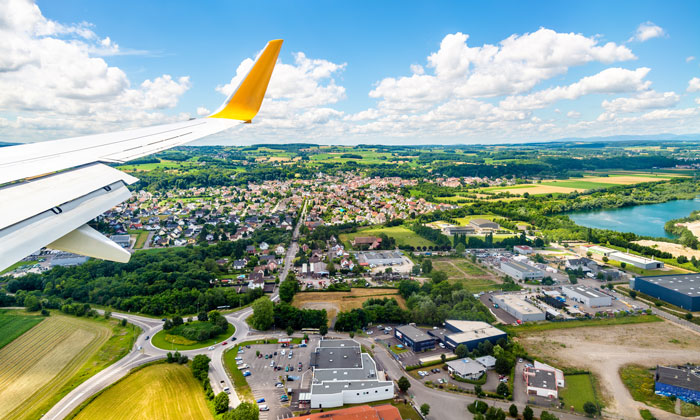 TAX CLARIFICATION: Landing at EuroAirport Basel-Mulhouse-Freiburg. View of Bartenheim village
In December, ministers from France and Switzerland met to finalise a new system regulating the taxes paid by Swiss companies working in EuroAirport Basel Mulhouse Freiburg.
EuroAirport is operated by France and Switzerland, making it one of the few airports in the world to be handled by two countries. Others include Geneva International and a handful of small Canadian-American ventures.
Swiss Federal Councillor Ignazio Cassis and French Foreign Minister Jean-Yves Le Drian met on December 19 in Paris to finalise the agreement. It clarifies what taxes companies working in the airport have to pay to the Swiss and French governments.
Mr Cassis said: "The agreement is a success for both our countries and for the economic development of the entire tri-national Upper Rhine region. It creates legal certainty for the companies based at EuroAirport, i.e. on French soil, makes it possible to continue with the important infrastructure development supported by both states and has the potential to create new jobs."
This final sign off on comes after years of discussion and deliberation. In January 2016 François Hollande, President of France, and Johann N. Schneider-Ammann, President of the Swiss Confederation issued a joint declaration announcing progress on the issue. 
In November 2016, a further agreement was signed by Christian Masset, Secretary-General of the French Ministry of Foreign Affairs and International Development and Yves Rossier, State Secretary Federal Department of Foreign Affairs (FDFA).
At the time, a EuroAirport spokesman said: "This conclusive clarification of the tax situation is of great importance for EuroAirport and the companies based there. The bi-national agreement strengthens the legal and planning security of the site. It also provides the necessary requirements for EuroAirport to continue to develop in its highly competitive market, securing the attractiveness of the location and confirming the economic importance of EuroAirport as a vital hub for the entire tri-national area."