Final phase in Manchester Airport's terminal development
Manchester Airport has unveiled the final stages of its major terminal redevelopment project…
Manchester Airport has unveiled the final stages of its major terminal redevelopment project. Following in the footsteps of Terminals 1 and 2, Terminal 3 has been given a make over with passengers deciding what improvements were needed.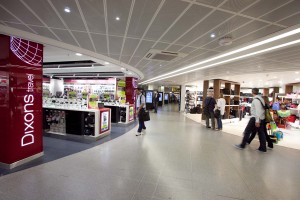 Now passengers travelling from Terminal 3 will see how their feedback has been used to change the departure lounge.
The changes were made after passenger survey scores for Terminal 3 dropped following the improvement of Terminals 1 and 2. The top five things that passengers wanted were: better wayfinding, more seats in the departure area, more flight information screens, an improved security area with more lanes open and better retail and catering.
Manchester Airport's Managing Director, Andrew Harrison, said: "Passengers travelling through Terminal 3 have told us that they think Terminal 3 could be improved which is why we have invested in the departure lounge.
Although this work addresses the main five areas of concern for our passengers, we know that there's more to do. Passenger feedback will continue to be part of our focus on creating a great experience for travellers through Manchester Airport."
Over £2 million has been invested in Terminal 3's redesign in addition to the £80 million investment in redeveloping Terminals 1 and 2 since the start of the project in 2007.
The Terminal 3 work includes the modernisation of flight information screens with the introduction of several plasma screens, clearer wayfinding signage, replacement flooring tiles on the upper level, plus the creation of four brand new shops and one new catering unit on the upper level.
Trattoria Milano, run by HMSHost, which is part of Autogrill Group, is making its debut at Manchester Airport. Trattoria Milano offers a variety of freshly made paninis, pastas, salads, and handmade pizzas. As part of the dining experience, guests will receive recipes of their dishes to take away. An extensive wine and spirits list is designed to complement any meal.
The four new shops are passenger favourites such as Dixons Travel, Rolling Luggage Swatch and Tie Rack. Costa Coffee will also be getting a new image to creating a relaxing area in the corner of the departure lounge later in the year.
Terminal 3 was originally opened by Diana, Princess of Wales in 1995 and is the newest of Manchester Airport's three terminals.
Related airports
Related people