Global air navigation body identifies key factors to improve ATM in South America
The chief of the the Civil Air Navigation Services Organisation (CANSO) made the case for a more unified aviation industry across the Central and South American regions at the CANSO Latin America and Caribbean Conference.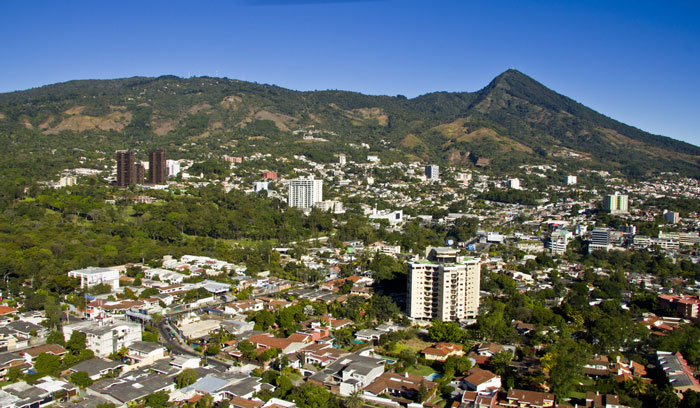 COMES IN THREES: San Salvador, the capital city of Salvador, where the conference was held
CANSO has highlighted three key drivers for efficient and effective air traffic management (ATM) in Latin America and the Caribbean; collaboration, harmonisation and innovation. Together these help improve the capacity of the aviation community and manage rising demand in the region.
Speaking at the CANSO Latin America and Caribbean Conference 2017 in Salvador, CANSO Director General Jeff Poole said: "Low airfares, rising incomes and demographic growth are fuelling significant passenger demand in Latin America and the Caribbean right now, and the ATM industry has a key role to play in helping to manage increased air traffic flow safely, effectively and efficiently. To do this we must look for opportunities to strengthen our cross-industry and pan-regional partnerships and improve performance by implementing industry best practice and embracing new technologies.
"Firstly, the importance of collaboration in ATM cannot be understated, and within the Latin America and Caribbean region this plays a pivotal role in the development and delivery of ATM. CANSO is already working closely with the International Civil Aviation Organization (ICAO) and our industry partners, the International Air Transport Association (IATA) and Airports Council International (ACI), and is today committing to strengthen our relationship with the Latin America and Caribbean Air Transport Association (ALTA) to further improve the efficiency and effectiveness of cross-industry operations in the region. We are also celebrating the power of partnership on an industry level, whether that is cooperation between Members – like EANA and DECEA – or as part of wider initiatives like the CANSO ATFM Data Exchange Network for the Americas (CADENA), or the newly formed Air Transport Optimisation Group (ATOG) in Panama.
"Secondly, if partnerships are key to coordinating change, then we must also closely consider the tools and approaches available to improve, and ultimately harmonise, operational performance in the region. Whether that is air traffic flow management and collaborative decision making, or performance based navigation – each has an important role to play in boosting ATM within the region and promoting integrated air navigation service provision.
"Finally, CANSO calls on the industry to embrace the critical part that innovation and new technologies are playing in developing capacity in the region. From automation and artificial intelligence, to state-of-the-art communication and surveillance systems, each brings us another step forward in our mission to deliver systematic modernisation across the region, and transform global ATM performance. What we need to do now is work together on our exciting journey onwards and upwards to ensure that we can realise the industry's potential to improve performance and deliver real value across the aviation chain – both regionally and internationally."