Munich Airport and Moscow Domodedovo Airport forge closer ties
Munich Airport and Moscow Domodedovo have signed a sister airport agreement, the seventh such arrangement for the German airport.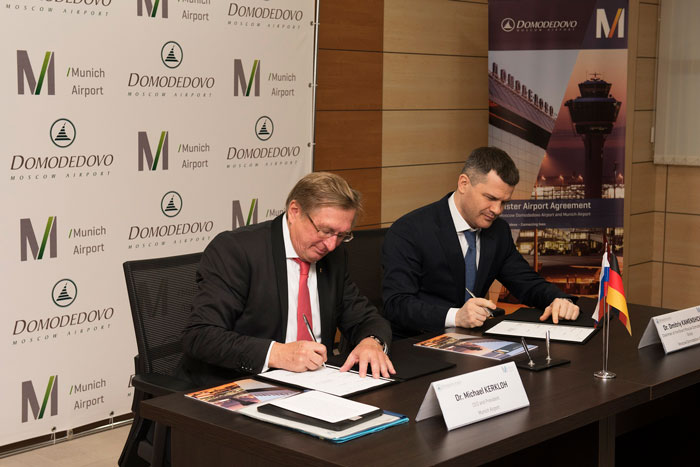 DRAWING UP THE CONTRACTS: Dr Michael Kerkloh (L) and Dr Dmitriy Kamenshchik (R)
At a special ceremony, the top managers of the two hubs, Dr. Dmitriy Kamenshchik, Chairman of the Board Moscow Domodedovo Airport Group and Dr. Michael Kerkloh, the President and CEO of Munich Airport, signed a cooperation agreement.
The aim of the partnership is a systematic knowledge transfer for employees and managers on both sides. It will include such activities as exchange programs that will give employees an up-close look at the daily workings and processes of the partner airport.
The "sister airport agreement", as it is known, also calls for an intensive exchange of ideas with regard to terminal planning, IT, real estate development, security and digitisation.
Moscow Domodedovo Airport is a major airport in Russia and Eastern Europe, has been chosen as Eastern Europe's best airport for seven consecutive years. The title is granted annually by the London-based aviation research institute Skytrax.
Munich's hub is Europe's only five-star airport and recently won the title "best terminal" for Terminal 2.
"Munich and Moscow is a partnership between equals. The continuous interactions with our sister airports in America, Asia and Africa help us to maintain and improve on our high quality standards. That makes it an even greater pleasure for me to welcome our first sister airport in Eastern Europe," said Munich Airport CEO Dr. Michael Kerkloh, highlighting the importance he places on international networking.
Moscow-Domodedovo joins Denver, Nagoya, Airports of Thailand, Singapore, Beijing and Airports Company South Africa as Munich's seventh sister airport.