Insider threats to be combated in Australian airports with closer scrutiny on workers
Since a foiled plot in July, the Australian Government has been ramping up airport security with various measures. The latest tackle insider threats.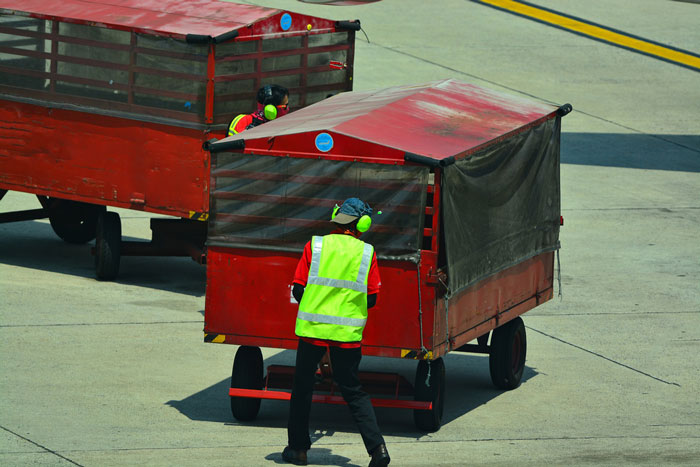 SCRUTINISING STAFF: Australian ground handling crews will be among those randomly checked.
Employees at Australian airports will soon be subjected to random searches and checks as authorities move to neutralise insider threats, ministers announced on Sunday.
The measures are amendments of the Aviation Transport Security Regulations 2005 and come as part of an overall tightening of security in the country following the foiled bomb attack planned on a flight from Sydney. Other steps include tighter access controls and additional security awareness training.
Minister for Infrastructure and Transport Darren Chester said: "Airport workers, together with their vehicles and belongings, will be randomly selected for explosive trace detection testing and other screening when entering or working in secure airside areas at major airports.
"Other measures being introduced include stronger access controls and additional security awareness training for aviation workers.
"These measures strengthen existing controls to ensure airport workers are authorised, properly identified and appropriately trained before entering secure airside areas. They may also be subject to security screening in the course of their duties.
"The measures will be progressively implemented and will provide flexibility for airports to ensure they continue to function efficiently and effectively.
"The Australian Government continues to counter security threats and is committed to providing the Australian public with safe and secure air travel."
However, there are those in the Australian Government who do not feel the measures go far enough.
An adamant campaigner on the subject, Senator Nick Xenophon labelled them as a 'joke'.
He said: "Most Australians will be shocked  to find out that while passengers and pilots are screened before going into secure areas, baggage handlers, catering and ground service staff with Aviation Security Identification cards are not.
"If it is good enough for pilots and pasengers it should be good enough for everyone.
"In  countries like the US, all airport staff are required to be screened. Our government's approach to random inspections is a joke.
"Systerms of checking can be easily bypassed . People with evil intent can be tipped off by mates and avoid random screening."
Senator Xenophon added he will pursue the matter in Senate Estimates this week and will again call for a US-style agency to be responsible for airport security.
"This will result in all employees coming under Government authority and not private contractors.
"Australian aircraft passengers deserves the world's best practice when it comes to security but the Government's measures fall well short of it."
Worldwide, insider threats have presented huge challenges to security services. In 2015, Metrojet flight 9268 was downed by a homemade explosive, allegedly planted by an employee at Egypt's Sharm el-Sheikh Airport. All 229 people on board died. More recently, flyers from Mogadishu on Daallo Airlines Flight 159 had a lucky escape when a suicide bomber blew a hole in the fuselage, killing only himself. Nine airport employees were arrested in connection with the incident. These included security screeners, a police officer, a porter and immigration officers.