One of the world's most remote islands finally has an airport
More than a decade on from the decision to build an airport on St Helena, service will commence between the mid-Atlantic island and South Africa.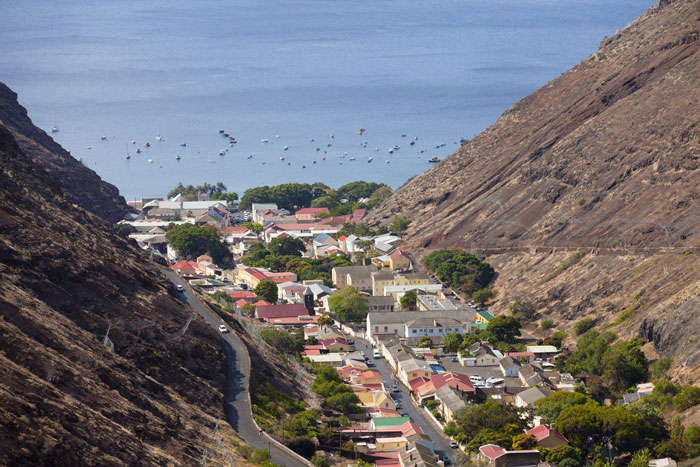 MID-ATLANTIC ROCK: St Helena is part of a cluster of British territories in the South Atlantic with a total population of 5,500.
The RMS St Helena has served its namesake faithfully. Since 1990, the old cargo liner has shuttled back and forth on a six-day journey between Cape Town and the volcanic rock, failing but a handful of times.
It has, in fact, been the only way the 4,500 residents of St Helena have had on and off their perch in the middle of the Atlantic. But on Saturday (October 14), all that changes.
At 1.15pm, seven years after the date originally hoped, the first flight of a regular service to and from the island will touch down after a six-hour trip from Johannesburg. The plane may only bring 60-odd people to the island but it is hoped it may represent the beginning of a blossoming tourism trade.
It will be operated by the South African airline Airlink and after Saturday's maiden voyage there will be weekly flights between the island and Johannesburg and the island and Cape Town.
Tickets for this weekend's flight are still available on the website – if you are willing to part with £500. From next month, prices drop to £400.
The path to a fully-functioning airport has, as is so often the case, not run smooth. Ideas were floated first in 2005 and the British Government even went so far as to announce its plans to put construction out to tender. There was hope that St Helena would have its lifeline to the outside world ready for action by 2010.
But the struggles garnering interested parties and 2007's economic down turn hindered the progress.
Basil Read, a South African construction company, was given the contract in November 2011 and in early 2012 set about preparing the site.
In June 2016, the year the airport was due to open, it was set back after the British National Audit Office expressed concerns over windshear, where wind speed and or direction changes drastically over a small distance.
By October, Air Safety Support International confirmed that the safety and security concerns had been addressed.
Over the last year, it has welcomed more than 30 private jets, for either private businesses or medical evacuation.
Saturday's flight, though billed as the beginning of commercial enterprise the airport, is not in fact its first passenger service. In May a one-off passenger plane was chartered to rescue stranded visitors after the RMS St Helena broke a propeller.