World first for airline replacing diesel-chugging tugs with eco-friendly alternative
British Airways has become the first airline in the world to introduce remote controlled devices to push back aircraft across its short-haul operation.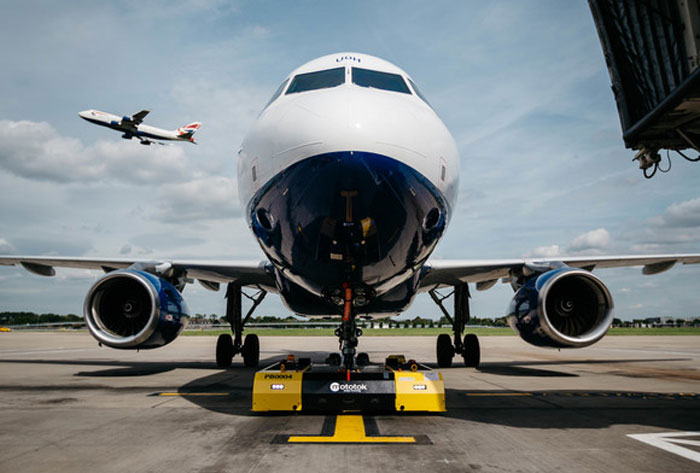 WORLD FIRST: The Mototok tug is a green alternative
The equipment, used to move Airbus short-haul aircraft, replaces traditional diesel tugs, allowing a single ramp agent to push an aircraft backwards from the gate remotely.
Emissions-free and capable of moving planes with precision, five Mototoks are currently in operation across 25 stands at Terminal 5. They were integrated into the operation in August, and more than 100,000 customers have benefited from smoother departures already.
In partnership with Heathrow, the eco-friendly Mototok tugs will allow British Airways staff to prepare aircraft for departure more efficiently. The airline is the first commercial operator to deploy the devices across multiple aircraft stands.
Klaus Goersch, British Airways' Chief Operating Officer, said: "British Airways is the most punctual, major short-haul airline in London. The introduction of the Mototok will help us to stay at the top of the league and keep our flights departing on time.
"This major step to modernise our operation is a first in the airline industry, and part of wider investment in new technology that will enhance the experience our customers have."
British Airways plans to roll out the Mototok across its short-haul operation by the end of the year, and is exploring the possibility of introducing the technology to push back long-haul aircraft in the future.
The Mototok's electric battery can hold its charge for up to three days, and charging points will be installed on each of the 25 stands at Heathrow's T5. 
Matt Gorman, Heathrow's Director of Sustainability said: "Mototoks are an essential part of our sustainability strategy, Heathrow 2.0, and its goals to reduce emissions from our airside activities. Together with innovative partners like British Airways we are bringing new electric and hybrid vehicles and charging points to the airport to make a tangible, positive difference in our local environment."
This year, British Airways also launched self-boarding gates on its domestic flights, self-serve bag drop points at Gatwick and Heathrow, and a new streamlined connections area at T5.