Sister cities cement bond with airport pact
Australia's third busiest airport is set to share tips with China's ninth as the ink dries on a new sister pact to go with their cities' 10-year partnership.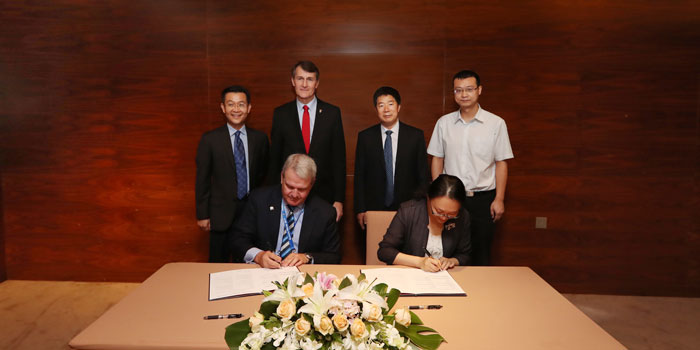 SISTER PACT: Front Row - Andrew Brodie BAC and Ms HU Chan Chongqing Airport Group Co. ltd. Back Row - Jonathan Zhang BAC, Lord Mayor Quirk, Mr DAI Ke Chongqing Airport Group Co. ltd, Mr Patrick Chang Chongqing Airport Group Co
They may be 5000 miles apart but Brisbane and Chongqing are as close as sisters with the signing of a new bond.
Brisbane Airport Corporation (BAC) and Chongqing Airport Group of China have entered into a sister-airport agreement. The deal will see the two share expertise on operational and commercial development and tourism market development.
Signed the MOU on BAC's behalf on Friday (September 22) BAC General Manager, Airline and Retail Management, Andrew Brodie said the most important outcome of the Memorandum of Understanding was the agreement to work cooperatively toward a direct service between the mega-market of Chongqing, with its 30 million plus residents, and Brisbane.
The Sister-Airport agreement extends the bond between Brisbane and Chongqing which began under the Sister-City relationship since 2005. The signing took place during Lord Mayor Graham Quirk's recent business mission to China.
The Lord Mayor said the signing of the Sister-Airport Agreement with Chongqing Airport further strengthened Brisbane's cooperative relationship with its largest sister city: "The Sister-Airport Agreement presents opportunities for both cities to work closely together through the exchange of expertise and experience.
"It will strengthen the cooperative bond between our cities and comes at a time when securing more direct flights from our largest international visitor market, China, remains a priority for Brisbane."
Mr Brodie added BAC was grateful for the city's support as the Airport developed greater presence in China. He said: "We are pleased to be able to work closely with the Lord Mayor and Brisbane City Council, through Brisbane Marketing, to leverage the strong ties they have developed in a number of sister-cities across China.
"Government support is essential to our success in developing more direct aviation ties with China and this new airport agreement is a good example of how we can work together to advance the interests of Brisbane and the region."
Chongqing Airport is a major aviation hub for western China, servicing more than 35 million passengers annually. Last month the airport opened its latest terminal, Terminal 3, now one of the largest airport terminal buildings in the world.
The 530,000 sq m terminal, which began construction in August 2012, has 94 aircraft parking stands, giving it an annual capacity of 45 million passengers, 1.1 million tonnes of cargo and 373,000 aircraft movements.
Brisbane and Chongqing Airport executives will hold their first meeting under the new relationship as part of the World Routes Development conference occurring in Barcelona in the coming days.