DFS Deutsche Flugsicherung and Deutsche Telekom cooperate on drone safety
DFS Deutsche Flugsicherung GmbH (DFS), the German air navigation service provider, and Deutsche Telekom have organised a Drone Detection Day to call attention to the challenges and opportunities stemming from the increasing number of drones being operated in the skies above Germany.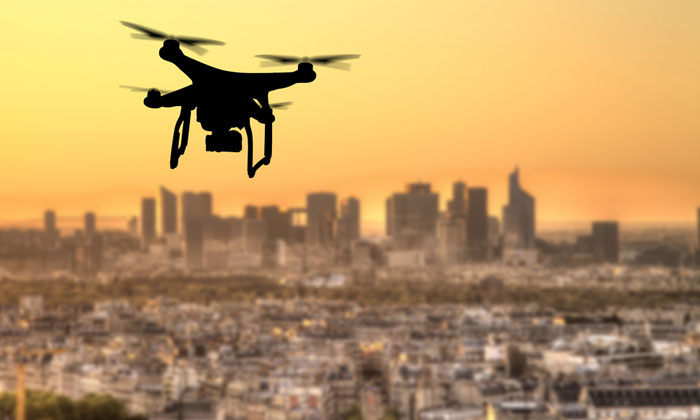 According to DFS estimates, 400,000 drones were sold in Germany in 2016. A further 600,000 are estimated to be sold this year.
Drones can be used in a number of applications, from transporting blood supplies to helping to maintain industrial facilities. The range of applications does not end there: For about a year, the Federal State of Schleswig-Holstein in Germany has been testing drones equipped with thermal imaging cameras to rescue abandoned fawns. However, unmanned aircraft systems, as drones are technically known, can also put air safety at risk. In 2015, DFS registered 14 incidents where drones impeded regular air traffic, whereas in 2016, this number rose to 64. Based on the first six months of 2017, DFS is expecting a new high for this year.
Prof Klaus-Dieter Scheurle, Chairman and CEO of DFS, said: "DFS stands fully behind the safe and fair integration of drones into air traffic because we are convinced of the potential of this new technology. At the same time, however, drones also pose a challenge. DFS wants to contribute to maintaining safety in air traffic at the established high level."
Companies have reservations about drones
It is not only the aviation industry that has reservations about drones. Car manufacturers worry about people taking photos of their prototypes on test tracks, energy suppliers fear acts of sabotage, prisons are concerned about the smuggling of weapons and drugs, event organisers and stadium operators worry about potential injuries to guests, and security personnel worry about negative publicity for their charges from drones with abusive banners (or worse). Together with partners from industry, Deutsche Telekom has developed the Magenta cyber-shield – a detection and alert system for drones. It uses technology developed by the leading partner Dedrone based in Kassel as well as frequency scanners from Rhode & Schwarz, microphone arrays from Squarehead and radar devices from Robin Radar Systems.
Dirk Backofen, Head of Telekom Security, said: "Drones can also be used for criminal purposes. Every company has different needs. That is why the Magenta cyber-shield is a modular system. The customer decides whether to use detection based on radio frequency, video, audio or radar, or a combination of these. Our system integrates sensors from different manufacturers."
Presentation of Magenta cyber-shield to a wider audience for the first time
At the Drone Detection Day, the Magenta cyber-shield was presented to a wider audience for the very first time. At the event, remote pilots flew various risk scenarios with different types of drones. The system's sensors, which had been installed on the buildings of DFS in Langen, reliably detected and issued alerts when the drones approached. HP Marketing & Consulting and Rhode & Schwarz also presented their drone protection technology in the form of jammers. The German Federal Network Agency (Bundesnetzagentur) issued the required authorisations. In Germany, jamming a drone's electronic signals may only be carried out by authorities performing safety or security missions, or with official approval issued by the competent authority.
Mandatory registration for drones demanded
This year, the German Federal Ministry of Transport and Digital Infrastructure issued rules governing drones. For example, remote pilots operating drones with a take-off mass of two kilograms and more need to demonstrate their ability to operate unmanned aircraft. Drones with a take-off mass exceeding 250 grams need to have an identification mark. At the Drone Detection Day, representatives of DFS and Deutsche Telekom described these rules as a first important step, but a step that needs to be followed by others. They both demanded mandatory registration for drones. If it is possible to commit criminal offences using drones, an offender must be identifiable beyond any shadow of doubt. Furthermore, the visibility of drones in the air needs to be enhanced. Civil drones are too small for air navigation services technology; radar cannot detect them.
Locating drones by means of the mobile network
As long as drones are not equipped with a transponder as aircraft are, they will remain completely invisible. In a research project launched in 2016, DFS and Deutsche Telekom have been jointly investigating how to locate drones by means of the mobile network and incorporate them into an air situation display. First results are already available. Both companies will provide information about these results at a later date.
Related topics
Related organisations