Russian rebound offers big boost to Dubai, Prague and Munich airports
Dubai International (DBX), Prague (PRG) and Munich (MUC) airports are benefiting from a rebound in travel by Russians.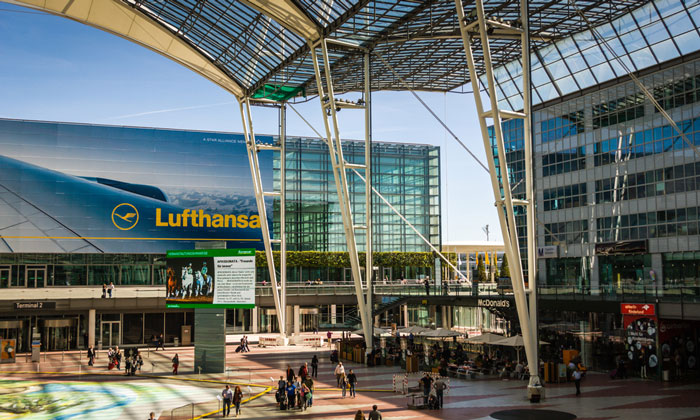 Lesser-known Minsk, the capital of Belarus, and Yerevan the capital of Armenia, have also seen a rising tide of Russian arrivals.
Insight from travel retail analyst, research and category expert, Counter Intelligence Retail show that in the 6-month period from September 2016 to February 2017, Russian outbound travel to DXB (based on scheduled international flights) rose by +21.6%, and to PRG and MUC it was up by +15.1% and +14.7% respectively.
These three airports were the only non-CIS airports among the top 10 that showed strong growth in the 6 months to February, according to data from CIR Business Lounge.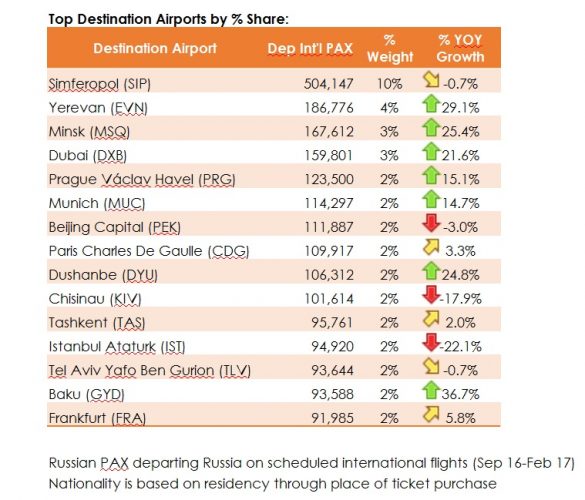 Other non-CIS gateways in the top 10 had mixed results with Paris Charles de Gaulle up by +3.3%, but Beijing Capital Airport (PEK) sliding by -3.0%. Meanwhile Turkey's Istanbul Ataturk (IST) remained weak with a collapse of -22.1% and slipped out of the top 10 (see chart for the top 15 destination airports by outbound Russian volumes). 
Commenting on the trend, Garry Stasiulevicuis, President, Counter Intelligence Retail, says: "This rebound is good news for duty free and travel retailers at some airports but not others.
Dubai in particular should benefit as a global connecting hub. However, Istanbul continues to suffer from recent terrorist attacks and political factors. It is also worth noting that while Russians are travelling again – thanks in part to a stronger and more stable Russian rouble – numbers are still off their 2014 levels."
He continues, "Since October 2016 we've seen improvement in Russian passengers leaving the country, and as well as significant growth in these top performing airports, we're also seeing improvements in travel to APAC and China in particular, as we shared in February this year."
CIS airports to watch
The biggest increases in Russian travel have been to Commonwealth of Independent States (CIS) – those countries formed when the former Soviet Union (now Russia) dissolved in 1991.
Among the top 10, Yerevan Airport (EVN) and Minsk Airport (MSQ) both saw Russian growth above +25% (see chart), while Dushanbe Airport (DYU) in Tajikistan was up by +24.8%. Baku Airport (GYD), the capital of Azerbaijan on the Caspian Sea, saw a +36.7% rise to 93,588 Russian passengers in the 6-month period. 
"Travel retailers eager to capture spending from Russians could do well to look at some CIS markets that may be below their radar," says Stasiulevicuis. "For example, Yerevan in Armenia offered more Russian air arrivals in a 6-month period we analysed than Istanbul Ataturk and Frankfurt combined."
Moscow Sheremetyevo is the star performer
Moscow's three-airport system remains core to international outbound travel from Russia, along with St Petersburg Pulkovo Airport (LED). In the 12 months to February 2017, Moscow Sheremetyevo (SVO) showed the best increase in international departures, up by +17.6% to 2.15m, followed by LED at +7.3%. Moscow's other main gateway Domodedovo (DME) was flat over the period at 1.43m.
Related topics
Related organisations