Passenger numbers rise by 20% in January at London Luton
Luton sees big passenger increase as it reports its figures for January.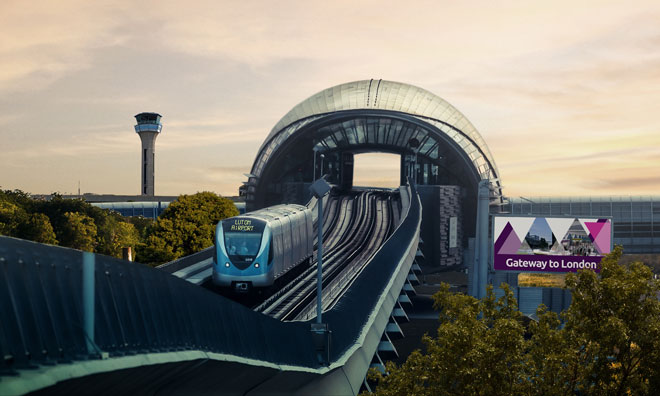 London Luton Airport (LLA) enjoyed a bright start to 2017 as passenger numbers grew by 20.1% in January compared with the same month last year. Over 985,000 travellers passed through the airport last month, representing thirty-four consecutive months of double-digit passenger growth.
LLA is currently undergoing a major redevelopment in order to meet this rapid growth in demand. Construction is well underway to upgrade the airport's facilities, improving the passenger experience and increasing capacity by 50% to 18 million by 2020.
As LLA transforms the experience for passengers on-site, the airport is also working with partners to deliver improvements to public transport links off-site that will ease accessibility for passengers.
Despite the rapid growth in passenger demand, LLA still lacks a direct express-style rail service. To change this, LLA is calling for the introduction of four fast trains per hour serving the airport as part of the upcoming East Midlands rail refranchising process.
Alongside Luton Borough Council's planned £200m light rail link connecting the rail station with the terminal, more fast trains will make it possible to reach LLA from London St Pancras in less than 30 minutes – a shorter journey time than the current links to both Gatwick and Stansted. The change is expected to generate up to £110m for the rail industry by increasing the proportion of passengers using rail to reach the airport, but will not involve any additional cost to the taxpayer.
Nick Barton, CEO of LLA, said: "As passenger demand for air travel from LLA continues to grow exponentially, public transport links are increasingly becoming a bottleneck for passengers looking to connect with the airport.
"We're investing to transform the airport to help meet demand while Luton Borough Council has committed to deliver a £200m light rail link between the rail station and the terminal. Implementing an express-style service with four fast trains per hour is the last piece in the jigsaw and can be delivered at no cost through timetable change alone.
"LLA's growth also means that passengers have ever more choice of exciting destinations from the airport. easyJet this week announced that bi-weekly flights between LLA and the historic Croatian city of Zadar will begin in May – an exclusive route with the airline from the UK. Meanwhile, from March passengers will be able to travel from LLA to the Isle of Man, with flights operating three times a week. Including the two new routes, easyJet is expected to fly over six million passengers from LLA in 2017, 500,000 more than in the previous year."
Read our in-depth study on Luton's redevelopment project here…
Related topics
Related airports
Related regions