Contract Extended For 15 Years by Lufthansa Technik Budapest and Budapest Airport
Budapest Airport & Lufthansa Technik Budapest have executed an extension of the lease of one of the largest aircraft maintenance hangar…
Budapest Airport Zrt and Lufthansa Technik Budapest Kft have executed an extension of the lease of one of the largest aircraft maintenance hangar for another 15 years. The contract was signed by Jost Lammers, CEO of Budapest Airport and René Droese, Property Director of Budapest Airport, Elmar Lutter, CEO of Lufthansa Technik Budapest, and Sándor Szomora, Deputy CEO of Luthansa Technik Budapest. LTB's expected turnover in the next 15 years is HUF 140 billion, supporting 350 jobs.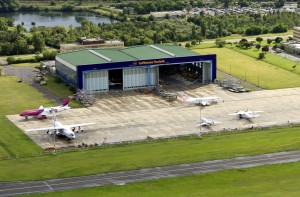 Lufthansa Technik Budapest specializes in overhauling and maintenance of narrow-body aircraft (D-check), and it commenced its operation at Ferihegy Airport with 240 employees in March 2002. Up to September 2010, LTB implemented refurbishments worth HUF 6 billion on the property leased from Budapest Airport, as a result of which their base in Ferihegy is now capable of performing maintenance of 4 narrow-body aircraft at the same time in two heated hangars with a combined floor-space of 6200 square meters.
In addition, LTB has leased 12 700 square meters of concreted apron area as well as 2700 square meters of workshop and office space from Budapest Airport. The operation of the maintenance base represents significant added value for the airport operator, as it offers world-class technical services to numerous airlines including minor repairs, troubleshooting in the event of unexpected technical failures, and planned overhauls. Passenger aircraft are designed, on average, for a useful life of thirty years, depending on the intensity of use, with two full overhauls during that period.
"Our fruitful cooperation with Budapest Airport enables us to serve our customers with precision and to meet all their needs. Our company performed overhaul works worth more than HUF 65 billion between March 2002 and September 2010, and we intend to strengthen our position of market leader in the region," said LTB CEO Elmar Lutter.
"For us at Budapest Airport this long term agreement is of great importance since in Lufthansa Technik Budapest we see a tested, reliable partner who offers world class service in the Aircraft Maintenance and Overhaul business (MRO). This partnership fits perfect with BA´s goal to support and expand the MRO business in Hungary to become one of the key locations in Europe. It will surely help to attract more companies and create additional workplaces in a constantly growing industry and foster the development of the Budapest Airport " – said Jost Lammers the CEO of Budapest Airport at the signing ceremony.
Related airports
Related people