Building momentum for sustainable aviation in Africa
ICAO's Secretary General Dr. Fang Liu stresses importance of enhanced partnerships to ensure progress on African aviation…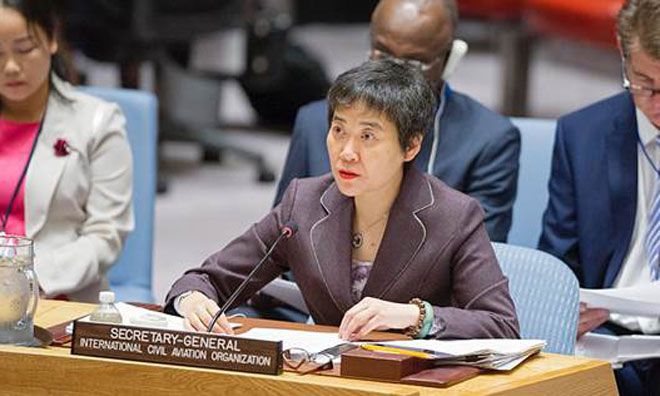 ICAO's Secretary General Dr. Fang Liu stressed last week that progress on African aviation safety, security and sustainability will be greatly aided by enhanced partnerships and coordination, and through the more effective implementation of strategic aviation plans with the UN aviation agency's concerted support.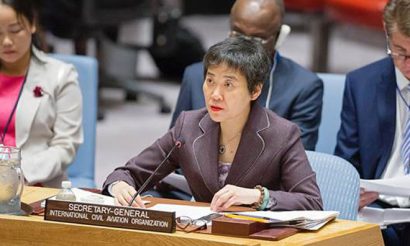 Her call to action came as part of her summary of latest developments emerging from ICAO's 39th Assembly last month, as presented to the 6th Meeting of Africa and Indian Ocean (AFI) Region Directors General of Civil Aviation in Brazzaville, Congo from 2-4 November.
"The First and Second Editions of the ICAO Global Aviation Safety Plan have established clear minimum targets for African States to achieve by 2017," Dr. Liu remarked, referring to African States' rate of effective implementation of ICAO's aviation safety oversight provisions. "The successes achieved with respect to the ICAO Comprehensive Regional Implementation Plan for Aviation Safety in Africa (AFI Plan) have also been a very positive trend we must continue, and instrumental in complementing the Abuja Safety Targets."
The Secretary General underscored that strong mechanisms were in place to support more ICAO compliant African civil aviation operations, noting the ambitious air navigation services performance indicators and targets ICAO had collaboratively developed with AFI States. She also highlighted the importance of the ICAO African Flight Procedure Programme (AFPP), and especially its role in promoting wider adoption of Performance-based Navigation (PBN), which delivers important fuel and emissions savings for airlines and quieter communities around airports, among other benefits.
Dr. Liu also took the occasion to highlight that ICAO had been instructed at its Assembly to develop a newly envisaged ICAO Global Aviation Security Plan, which would help to bring a new level of strategic guidance with the integration of local, national and international agencies as African States continue to pursue the objectives of the ICAO AFI SECFAL Plan and the Windhoek Ministerial Declaration.
"In order to enable all States to benefit – that No Country is Left Behind –it is essential that the entire aviation community work together…"
She called for the unlocking of the socio-economic benefits of air transport through greater liberalisation, and noted that the projected significant growth in air traffic Africa-wide will require greater commitment to the enhancement of environmental initiatives, such as participation in the new carbon offsetting agreement, or CORSIA, endorsed by ICAO's 39th Assembly, the development of State action plans to reduce aviation-related CO2 emissions, and human resources development for the Next Generation of Aviation Professionals.
With regards to the latter, Dr. Liu congratulated African States' participation in the Human Resources Development Fund (HRDF) initiative and excellence in aviation training.
"Progress on the sustainability of African aviation is achievable with the support of ICAO's Regional Offices, our Technical Cooperation and Technical Assistance Programmes, and through strategic partnerships at the regional and international level," Dr. Liu concluded. "The tremendous growth in aviation traffic and air connectivity that we are forecasting represents a crucial socio-economic developmental opportunity.
In order to enable all States to benefit – that No Country is Left Behind –it is essential that the entire aviation community work to ensure that the international civil aviation network is managed and resourced sustainably."
Related topics
Related organisations
Related regions