Preparing for winter at Berlin's Schönefeld and Tegel airports
Preparing for winter at SXF and TXL. With almost 400 employees and more than 70 dedicated ice and snow clearance vehicles…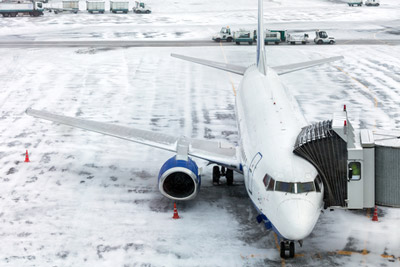 The change of the flight plan in October marks the start of the winter season at Berlin's Schönefeld and Tegel airports. Winter services are overseen by the ground maintenance staff of Flughafen Berlin Brandenburg GmbH and employees of AviationSolution Berlin.
In total, up to 390 employees work at both locations in multiple shifts. Up to 210 airport employees and their service providers are responsible for maintaining and de-icing the ground and up to 180 employees of AviationSolution Berlin for de-icing aircraft. Together they spread an average of 1000 tons of grit and 600 tons of de-icing fluid over 327 hectares every winter.
Well prepared for the 2016/2017 winter season
Starting in October, winter diesel and de-icing agent will be ordered so that vehicles will operate without any problems at temperatures below -20 °C. To increase their reliability, vehicles have been fitted with fuel heaters. The airport can re-order grit within 48 hours from two independent suppliers.
Winter service by Flughafen Berlin Brandenburg GmbH
 
The airport's ground maintenance service looks after all ground areas, runways, taxiways and aprons within the secure area as well as roads and walkways in the public area. On average, Berlin's airports at Schönefeld and Tegel consume around 600 tons of solid grit (calcium formate and sand) and 1000 tons of fluids (potassium formate) every winter. Both materials demonstrate very good environmental properties, as formates are completely biodegradable and only possess limited toxicity for water and plants.
In total, 327 hectares of ground space are maintained:
Tegel Airport: 111 hectares
Schönefeld Airport: 121 hectares
BER: 95 hectares (≙ together approx. 460 football pitches)
It takes about 30 minutes to de-ice a runway (depends heavily on weather conditions). Grit consumption lies at around six tons with twelve tons of de-icing fluid being used.
74 specially designed airport maintenance vehicles are available, 35 at Schönefeld and 39 at Tegel:
These include eight of the latest generation clearance engines for the runway teams (four per location): clearance width: 5.30 metres / total width of snowplough: 7.20 metres / total length: 19 metres / total weight: 27 tons / power: 440 hp / truck tank volume: 350 litres / tank volume jet sweepers: 600 litres / latest electronic controls / joystick operation
This year Tegel will start using a brand new large-area gritting vehicle with spread data management: gritting width: 24 metres / capacity: 8000 litres of de-icing fluid and 7 cubic metres of solids (sufficient for one hour of operations on the runway during poor weather conditions) / A display shows the driver, which areas have already been treated and the gritter automatically switches off, when driving on a treated area.
 Aircraft de-icing by AviationSolution Berlin
 The employees of AviationSolution Berlin are responsible for aircraft de-icing. De-icing operations are coordinated by an Airport Control Centre employee. Depending on its size, as well as weather conditions and the technology used, it takes around 20 minutes to de-ice an airplane. De-icing fluid consumption varies between 150 and several thousand litres, depending on aircraft type. The fluid used is ecologically safe and biodegradable.
De-icer storage capacity:
Tegel Airport: in total 274,300 litres, of which 208,000 litres in tank storage and 66,300 litres in vehicles.
Schönefeld Airport: in total 496,000 litres, of which 450,000 litres in tank storage and 46,000 litres in vehicles.
Additional emergency storage capacity: 100,000 litres.
AviationSolution Berlin vehicles:
A total of 25 de-icing vehicles of types VestergaardElephantBeta, Beta-15 and Gamma (15 at Tegel, ten at Schönefeld)
Maximum work height: 13 to 23 metres.
De-icer tank contents: 5,000 to 8,000 litres.
At Schönefeld, winter services and flight operations run 24 hours a day, seven days a week. To permit flight operations at Tegel to begin at 6:00 a.m., the first shift of the day begins at 4:00 a.m. In case of extreme weather conditions, on-call status may initiated from 1:15 a.m. In event of constant snowfall, employees at both airports work in multiple shifts, around the clock.
 
Related topics
Related organisations