Heathrow wins £18 billion runway; Gatwick 'stands ready to proceed when the time comes'
The UK government has agreed to expand Heathrow Airport's capacity through a third runway…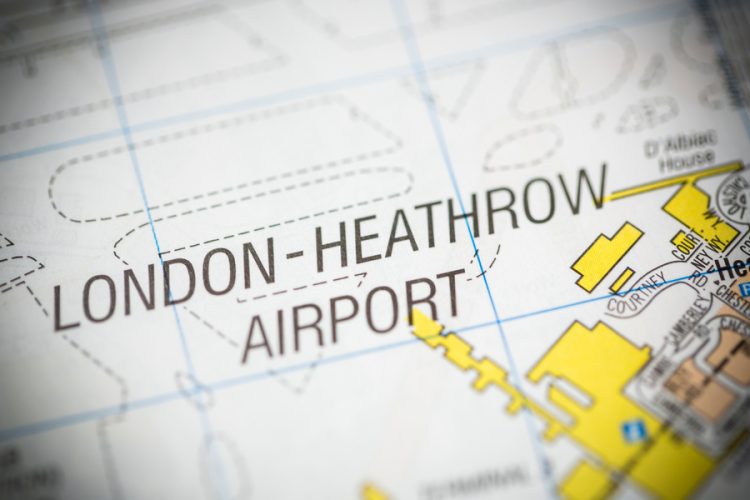 The UK government has agreed to expand Heathrow Airport's capacity through a third runway.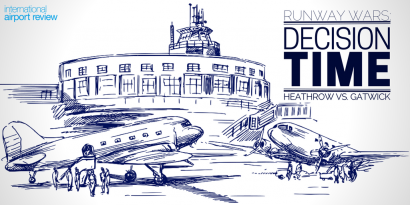 Heathrow Airport has been given the green light to build a new £18 billion runway, ending 25 years of indecision with a plan to boost the country's global trade ambitions following the vote to leave the EU.
Heathrow, Europe's busiest airport, had been battling with its smaller rival Gatwick for the right to expand, after successive governments failed to make a decision on a new runway due to environmental and political protests.
The government said in its statement on Tuesday that it was proposing legally binding noise targets to provide respite for local residents, many of whom oppose expansion due to worries over noise and air pollution.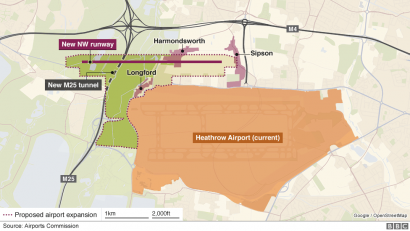 The scheme will now be taken forward in the form of a draft 'National policy statement' (NPS) for consultation. The project is now likely to face legal challenges and a final vote by lawmakers in a year's time, meaning the runway can only open by 2025 at the earliest. 
"The government's preferred scheme will be subject to full and fair public consultation," Transport Minister Chris Grayling said in his statement.
A Heathrow spokesperson said:
"We welcome the news that Heathrow is Government's preferred site for a new runway and look forward to hearing the full details later from the Transport Secretary.
"Expansion of Heathrow is the only option that will connect all of the UK to global growth, helping to build a stronger and fairer economy.
"We await the full details, but Heathrow stands ready to work with Government, businesses, airlines and our local communities to deliver an airport that is fair, affordable and secures the benefits of expansion for the whole of the UK."
Gatwick Chief Executive Stewart Wingate, said:
"We are disappointed as we do not believe this is the right answer for Britain. Gatwick has put forward a credible financeable and deliverable plan for expansion.
"It is a plan that can guarantee growth and guarantee certainty for Britain. We look forward to studying the full reasons behind the Government decision in detail. 
"The challenges facing Heathrow have not changed.  Our message today is that Gatwick stands ready to proceed when the time comes."
Other reactions…
Following today's announcement that the Government plan to support an additional runway at Heathrow airport, the Mayor of London, Sadiq Khan, said:
"This is the wrong decision for London and the whole of Britain.
"A new runway at Heathrow will be devastating for air quality across London – air pollution around the airport is already above legal levels of NO2. Heathrow already exposes more people to aircraft noise than Paris CDG, Frankfurt, Amsterdam, Munich and Madrid combined. A third runway would mean an extra 200,000 people impacted, exposing 124 more schools and 43,200 more schoolchildren to an unacceptable level of noise.
"I will continue to challenge this decision and I am exploring how I can best be involved in any legal process over the coming months.
"Most urgently, the Government must set out how it's possible for Londoners not to suffer from the additional air and noise pollution that we know will be created by an additional runway at Heathrow. They also need to guarantee that they will fully fund the billions of pounds needed to improve road and rail connections to Heathrow – Londoners cannot be expected to pick up the bill for this."
Chief Executive of the AOA, Darren Caplan said: 
"We have consistently said that the UK needs to compete in both established and emerging markets. This decision today is a first step in the process towards ensuring the UK has the additional capacity it needs to help the country deliver, sustainably, the connectivity it requires in the future. At this time of increased uncertainty following the Brexit vote, we need to maintain momentum, remove uncertainty and ensure the UK gets the additional capacity it so vitally needs as soon as possible to demonstrate the UK is open for business and confident about its future."
Heathrow Hub, the independent proposal to expand Heathrow by extending the northern runway, has responded to the UK Government's decision. Captain William 'Jock' Lowe, Director of Heathrow Hub, commented:
"Our economy, our national transport infrastructure and our international connectivity will be much improved by the expansion of Heathrow Airport rather than Gatwick. While we obviously believe that our own concept to extend the northern runway remains vastly superior to Heathrow Airport's third runway option, we congratulate John Holland-Kaye and his team.
"We are relieved that the Government has made the correct decision in terms of location. Heathrow is where the airlines want to be; it's where the demand is."
Jason Brooks, UK head of aviation at WSP, said:
"This is a landmark moment for UK aviation that we are rightly celebrating. As with Hinkley, the biggest boost this provides to the construction industry is our confidence. Our business plans and recruitment drive can continue with conviction. However, this should be seen as just the first step to increasing airport capacity in the South East. The strategic importance and growth potential of London Gatwick remains critical, we also need a new runway there too in due course, for the UK to be able to maintain its position as a leading global aviation player and economic powerhouse."
Daniel Parker-Klein, Head of Policy, CILT says:
"Government must ensure that the benefits of the decision are fully realised. The conditions set by the decision, related to aircraft noise, air quality and road traffic, must be strictly enforced. This will enable improvements to roads, rail and other infrastructure to be properly planned and investment justified, it will send messages to the aviation industry about the need to continually improve environmental performance, and it will help towards meeting quality of life targets."
Andrew Cornish, CEO of Liverpool John Lennon Airport commented:
"Liverpool John Lennon Airport welcomes this news and will continue to support Heathrow's proposals ahead of a final decision due next year, so that regional airports such as Liverpool can benefit by the future opening up of access to the UK's hub airport for improved worldwide connectivity."
Martin Rolfe, NATS Chief Executive Officer, said:
"We welcome the Government's clear decision on the location of a new runway and its announcement of a faster planning process to deliver it.
"We will be working closely with Heathrow Airport and all stakeholders to develop airspace designs that help maximise the benefits whilst maintaining safety and minimising noise and other environmental impacts.
"Having now made an important decision to secure the future runway capacity the country needs, we must get on with modernising airspace right across the UK to ensure we can meet the forecast growth in air traffic of 40% by 2030.
"We are delighted to see the Government's support for airspace modernisation, which will be crucial to future efficiency. Without such airspace modernisation, over the coming years the travelling public will see a major rise in delays and flight cancellations.
"These decisions will signal to the world that the UK is open for business, which is more important now than ever."