Copenhagen Airport now A-CDM ready with Amadeus technology
One of the main challenges facing airports today is how to work closely with stakeholders to minimise flight delays, react fast to unpredictable events and make efficient use of available resources…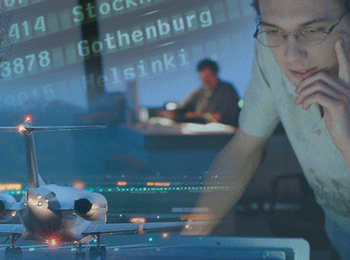 That's where Airport Collaborative Decision Making or A-CDM comes in.
A-CDM outlines a series of standardised and automated operational procedures for all airport players to follow – whether on the ground or in the air – to ensure a better traveller experience.
Amadeus and Copenhagen Airports today announce the successful implementation of Amadeus Airport Sequence Manager and A-CDM Portal solutions, which provide the airport, its airline customers, ground handlers and air traffic controllers with accurate and synced information on aircraft departures.
These solutions have contributed to the airport's success in qualifying to become A-CDM compliant and be certified by Eurocontrol to empower Copenhagen Airport to work collaboratively with key travel players on the same platform to improve the efficiency of the flight turnaround process.
For example, if other A-CDM airports in Europe experience a major disruption today, using this technology Copenhagen Airport will be simultaneously informed so that it can react accordingly.
Christian Poulsen, CIO and VP for Assets & Technology at Copenhagen Airports, said: "This will help airlines spend less time near the gate and on the runway so they can minimise delays, keep travellers happy, and save fuel thus reducing their impact on the environment. In short we all benefit – it's a win-win."
Copenhagen Airport will soon join more than 20 airports in Europe that are A-CDM compliant. As more and more airport players adopt these common processes and technology, the more travellers and all actors in the travel chain will benefit.  
"We chose Amadeus as a strategic partner to provide the IT foundation to support our "Expanding CPH" plan on how to grow from 25 to 40 million passengers per year. We are well on the way with that expansion plan," said Christian Poulsen.
And by putting in place a solution that allows all airport players to work in partnership an increase in efficiency of all activities in and around Copenhagen Airport is expected.
"Sharp focus on efficiency and on our customers Total Cost of Operations is one of the cornerstones in our strategy. That is widely acknowledged, as Copenhagen has been awarded "Europe's most efficient airport" 11 times in the past 13 years by Air Transport Research Society (ATRS)," said Christian Poulsen.
John Jarrell, Head of Airport IT at Amadeus, said: "We are committed to supporting Copenhagen Airport's vision to improve the airport's operational performance and customer experience.
"We have seen great results working together, and for them to become an A-CDM compliant airport is a great milestone in our journey together. As its operations continue to grow and as the airport industry evolves, we look forward to continuing to work with such an innovative and forward-thinking player."
Copenhagen Airport and Amadeus announced a 10-year landmark deal in March 2016 to adopt a wide range of Amadeus solutions. Amadeus Airport Sequence Manager and A-CDM Portal solutions are two of the nine solutions to be implemented as part of this agreement.
Related topics
Related airports
Related organisations