$12 million South Terminal renovation underway at Austin-Bergstrom Airport
The $12 million renovation which will overhaul the 9,144 m2 South Terminal building at Austin-Bergstrom International Airport has begun, with completion expected in early 2017…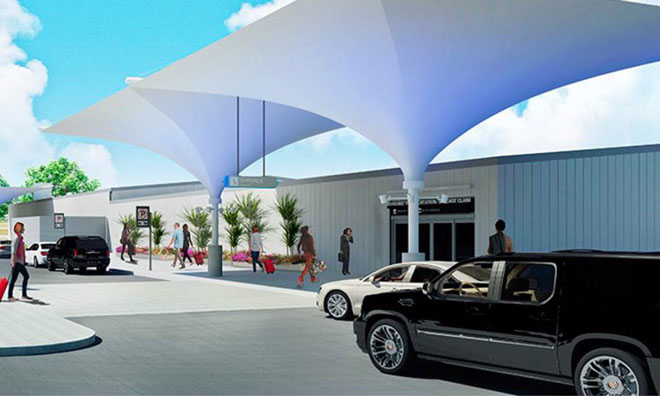 The $12 million renovation which will overhaul the 9,144 m2 South Terminal building at Austin-Bergstrom International Airport has begun, with completion expected in early 2017.
Developers LoneStar Airport Holdings LLC have stated that the building will be "only one of a handful" of privately operated terminals in the United States. They will run the terminal under a $12 million lease agreement with the Austin Department of Aviation.
The terminal dates back to the original Bergstrom Air Force Base, and Jeff Pearse, the CEO of LoneStar, says the renovation will have a retro feel "…that hearkens back to those glory days of air travel back in the mid 60's".
"It's going to be unique, which speaks to the Austin experience overall. It's going to be unlike any other terminal that people have traveled through," said Pearse.
The terminal will be decorated with mid-century furniture and finishes, and passengers will actually walk across the tarmac to board their flight.
The company says the South Terminal has been designed for use by ultra-low-cost carriers. Because they will be attracting cheaper carriers, and functioning in a low-cost building, LoneStar Airport Holdings says the price should impact passengers as well and save them some money.
"We will pass savings onto the air carriers, then the air carriers theoretically can offer lower and more competitive fares to their passengers," said Pearse.
The organisation is now in talks with multiple airlines to determine which will be the best fit at the South Terminal. Pearse says the terminal will be able to handle a combined total of 36 arrivals and departures each day.
The South Terminal will have a new outbound and inbound baggage-handling system (BHS), to be made and installed by Vanderlande. There will be a single flat-plate reclaim system with room for a second.