Gatwick Airport prepares for further growth with opening of £80m Pier 5
Posted: 1 February 2016 | Katie Sadler, Digital Content Producer, International Airport Review | No comments yet
Gatwick Airport unveiled the next stage of its £2 billion transformation programme with the official opening of the airport's newly-redeveloped Pier 5. On 01 February 2016, Gatwick's CEO Stewart Wingate and Eastbourne and Willingdon MP Caroline Ansell, officially opened the £80 million redeveloped Pier 5 forming part of the airport's North Terminal transformation plan. Pier […]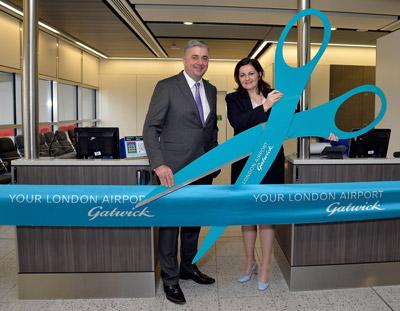 Stewart Wingate, Gatwick CEO, and Caroline Ansell, MP, open Gatwick's new £80 million Pier 5 facility.
Gatwick Airport unveiled the next stage of its £2 billion transformation programme with the official opening of the airport's newly-redeveloped Pier 5.
On 01 February 2016, Gatwick's CEO Stewart Wingate and Eastbourne and Willingdon MP Caroline Ansell, officially opened the £80 million redeveloped Pier 5 forming part of the airport's North Terminal transformation plan.
Pier 5 at Gatwick Airport allows vertical segregation of arrival and departure routes for passengers
According to Gatwick, the fully operational pier will allow the airport to improve efficiency by providing vertically separated arrival and departure routes for passengers, smoothing passenger journeys and creating flexible and efficient operation for passengers and airlines.
Gatwick plans for 95 percent of passengers to board and disembark their aircraft via a jetty from a pier, rather than transporting by bus. The new pier will allow an additional 1 million passengers each year to board their aircraft from a jetty.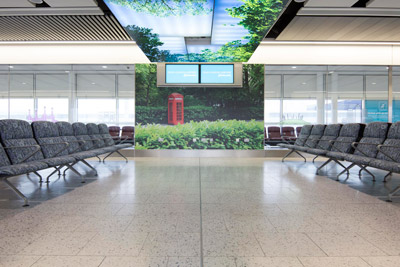 In addition to improved passenger flow, the airport will be able to better support airlines by providing set locations on the Pier, with their aircraft located side by side, allowing airlines to keep their staff and facilities in one place.
The new Pier 5 has been rebranded with a new look called 'London Square', promoting Gatwick's heritage as a London hub through images of landmarks in the Capital. Each gate has been increased in size to accommodate additional facilities and to increase speed of boarding. Amenities within the gate rooms include interactive spaces for families, a business zone with charging points and internet access.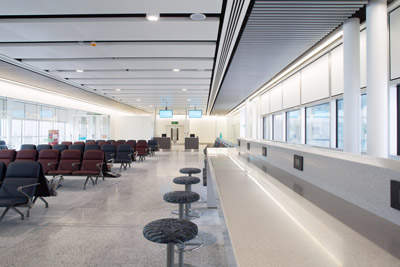 The redesign and modernisation of stands at the airport forms part of Gatwick's case for expansion, highlighting the need for a second runway, following the Airports Commission Report favouring expansion at Heathrow. With the airport surpassing the 40 million passenger barrier last year – which according to the report was not expected until 2024 – the airport believes expansion is needed in order to keep pace with growing demand before reaching full capacity.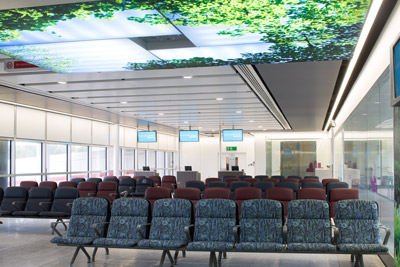 "Our investment programme is all about driving that growth, and Pier 5 will be a significant contributor"
Gatwick Airport CEO Stewart Wingate said:  "Since coming into private ownership six years ago, we have invested more than £1 billion in transforming and growing Gatwick and, to accommodate our growth, we are set to invest another billion.
"Total passenger numbers have grown by nine million over this time – today, 40 million people choose Gatwick each year and we have achieved 34 successive months of growth. To keep pace with this unprecedented growth, we need to be smart about how we work with our existing infrastructure while we wait for a Government decision on airport expansion. 
"Our investment programme is all about driving that growth, and Pier 5 will be a significant contributor, allowing us to handle greater volumes of aircraft and passengers."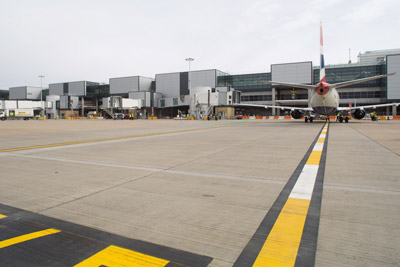 The redesign of Pier 5, and this summer's opening of Pier 1, will allow Gatwick to handle new and changing types of aircraft. It has the ability to accommodate seven large aircraft and 12 smaller aircraft, or a combination of both. Gatwick estimates the opening of today's pier will allow an additional 30 flights per day, which equates to approximately 4,200 passengers per day, compared to the old Pier 5 facility.
'Gatwick's expansion has a very important role to play in the local economy'
On opening the new facility, Caroline Ansell MP, an advocate of expansion at Gatwick, said the airport is a 'serious economic hub' and 'is deliverable'. Ansell believes 'Gatwick's expansion has a very important role to play in the local economy'.
Caroline Ansell continued: ""It is a privilege to open Pier 5 and have the chance to see this substantial investment that will improve the passenger experience and help Gatwick become one of the world's best airports.
"The airport is vital for the economy of south east England and I have made it very clear on a number of occasions I want to see its continued success."