Security & Counter Terror Expo returns in 2016
Leading event returns to London in April with a programme created to help those tasked with keeping nations, assets and businesses safe…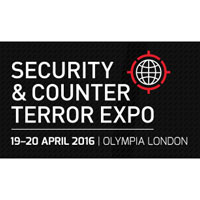 Over recent years there have been significant developments in international terrorism with attacks being carried out globally. The threat is constantly evolving and is currently at a significantly high level worldwide. Following recent events in Europe, the issue of national security and counter terrorism is at the top of government agendas.
Security & Counter Terror Expo will reflect these developments, with the most comprehensive showcase of cutting-edge technology and exploration of the latest strategies. The event has an increased focus on uniting domestic and international professionals, and will include a host of features that will benefit those working in both the public and private sectors.
Returning to Olympia, London from 19 – 20 April 2016, it is the premier event for all professionals looking to preserve national security, protect assets and individuals against terrorism, and deliver effective security strategies.
The two-day event, aligned with the Home Office's seven security capabilities, will showcase the latest innovations in technology, equipment and services designed to assist border control, critical national infrastructure protection, cyber security, major events, offender management, policing and counter terrorism, and the emergency services.
David Thompson, Event Manager, said: "The recent events across Europe remind us that the issue of security has never been more paramount. Targets are becoming more diverse, as are the methods employed by those that seek to do us harm.
"Terrorists will continue to adopt tactics that help them avoid detection, so the security sector as a whole must stay one step ahead by investing in new technologies and intelligence solutions that protect against current and future threats."
Security & Counter Terror Expo serves a vital role in delivering a unique environment in which global security professionals can source the most innovative solutions to tackle terrorism. Geoquip, NEC, Aselsan and Jackson's Fencing are among the major multinational companies to already confirm their presence at 2016 show and will join a raft of new exhibitors.
Alongside the exhibition, cyber security will take centre stage at the 2016 show with the leading figures discussing the latest advances at The Cyber Threat Intelligence conference. Presented by techUK, the representative body for the UK's technology industry, it will bring together all those who work to prevent cyber terrorism and crime. Among the topics to be discussed will be an overview of global cyber security threats and how to mitigate against them.
Talal Rajab, Programme Manager for techUK's Cyber, National Security and Criminal Justice programmes, added: "What was once considered a niche area in the wider national security debate has emerged front and centre in many government's priorities. Security & Counter Terror Expo offers the ideal platform for the industry to learn from some of the most prominent figures, while networking with key decision makers."
Critical national infrastructure will always be a prime target for terrorists and protecting it is an immense and often challenging task. The Critical National Infrastructure conference will address the issues faced, while showcasing how to guarantee the safety and resilience of critical assets and networks.  
Features at the 2016 exhibition include the Policing and Special Ops Zone that will showcase the latest products, strategies and thinking for global Law Enforcement and Special Operations teams.
The highly popular Hosted Buyer Programme also returns, affording senior officials seeking the next generation of equipment or technology the opportunity to pre-arrange meetings with relevant vendors.
Running alongside the exhibition, the World Counter Terror Congress programme is designed to deliver insight, analysis and perspective to current threats. It consists of an extensive and highly specialised programme of workshops, lively debates and plenary sessions developed to offer an in-depth examination of specific issues and provide a focused forum for debate.
The centre piece of the programme is the paid-for World Counter Terror Congress, which will feature some of the security industry's most prominent figures. Mark Rowley, Assistant Commissioner, Specialist Operations at the Metropolitan Police; Dr Jamie Shea, Deputy ASG, Emerging Security Challenges at NATO; and Sir Malcolm Rifkind QC, former Chair of the UK's Intelligence and Security Committee, are just a few of the names confirmed to speak.
In addition, there will be a series of specialist free-to-attend conferences focussing on Transport Security and Advanced Technologies.
Security & Counter Terror Expo 2016 is co-located with Ambition – the EPRR Expo – and Forensics Europe Expo.
To register to attend or exhibit at the 2016 Security & Counter Terror Expo or for further information, please visit http://www.counterterrorexpo.com/