Automated passenger handling provider Materna Group acquires DSG Bagdrop AS
Materna Group, the passenger handling and ICT solutions provider, has acquired self-service bag drop solutions supplier DSG Bagdrop AS. The acquisition of Oslo based DSG Bagdrop by Materna Group became effective as of the 01 January 2016, strengthening its position in the automated passenger handling segment. Baggage handling automation is booming worldwide and the competition […]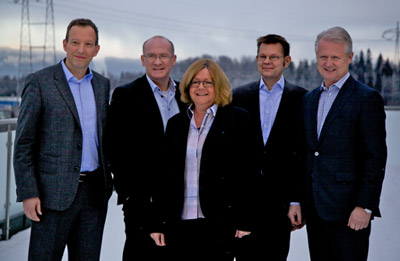 From left to right: Ralph Hartwig (Chief Financial Officer, Materna Group), Idar Sørgjerd (Chief Executive Officer, DSG Bagdrop), Lieselotte Neste (Executive Vice President Business Line Mobility, Materna Group), Helmut Binder (Chief Executive Officer, Materna Group), Geir-A. Remmem (Chief Executive Officer, Bertel O. Steen, former owner of DSG Bagdrop)
Materna Group, the passenger handling and ICT solutions provider, has acquired self-service bag drop solutions supplier DSG Bagdrop AS.
The acquisition of Oslo based DSG Bagdrop by Materna Group became effective as of the 01 January 2016, strengthening its position in the automated passenger handling segment.
Baggage handling automation is booming worldwide and the competition is growing too. Materna's acquisition of DSG Bagdrop is part of an industry consolidation process that creates a strong market leader able to drive the self-service passenger processing market. Airports and airlines around the globe are currently installing self-service bag drop solutions as they can speed-up passenger check-in times dramatically. The majority of passengers who have used a self-service bag drop kiosk during their travels prefer this system as it can significantly reduce or even completely eradicate check-in queues.
"We are truly pleased to welcome DSG Bagdrop as a part of the Materna Group"
"We are truly pleased to welcome DSG Bagdrop as a part of the Materna Group," says Helmut Binder, CEO of Materna Group. "DSG Bagdrop is a leading solution provider in Europe and we are looking forward to extending our success in this aviation market segment by integrating the renowned DSG Bagdrop products."
"The DSG Bagdrop team is a pioneer in this industry segment and has combined excellent technology with a fresh modern design to improve bag drop processes with their in-depth understanding of all parties involved and deep knowledge of the respective baggage flows inside the terminals. They are a centre of excellence in this field," adds Liselotte Neste, Executive Vice President Business Line Mobility and responsible for Materna's aviation industry segment.
Idar Sørgjerd, CEO of DSG Bagdrop believes that the new owners will boost market opportunities: "Materna´s international network of sales and service professionals will get our products out to new markets. They are an international organsation with regional offices in Asia and North America. Their supplier relationships with leading international airlines like Lufthansa, Austrian Airlines or easyJet and airports like London Gatwick and Hamburg Airport are also very exciting for DSG Bagdrop."
DSG Bagdrop will continue to develop and support their current products for all existing DSG Bagdrop customers. All DSG Bagdrop employees will remain located in Oslo, Norway.
Related topics
Related organisations