INEA approves European air traffic management project
Posted: 27 November 2015 | Katie Sadler, Digital Content Producer, International Airport Review | No comments yet
The Innovation and Networks Executive Agency (INEA) has approved a grant for a key European air traffic management project aiding the SESAR programme. The project, which is supported under the Connecting Europe Facility (CEF) with a grant worth €318.5 million, and which will be managed by SESAR Deployment Manager, will modernise and harmonise Air Traffic Management (ATM) systems and procedures […]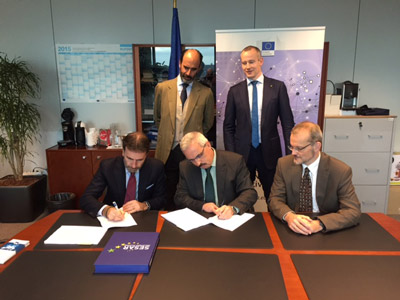 The Innovation and Networks Executive Agency (INEA) has approved a grant for a key European air traffic management project aiding the SESAR programme.
The project, which is supported under the Connecting Europe Facility (CEF) with a grant worth €318.5 million, and which will be managed by SESAR Deployment Manager, will modernise and harmonise Air Traffic Management (ATM) systems and procedures across 24 EU Member States.
"I see these funds as a key factor in realising the full ATM modernisation"
The project is one of 10 EU financed projects worth a combined €364 million which aid the development of the Single European Sky ATM Research (SESAR) programme.
The projects were selected under the 2014 CEF Transport calls, which made €13 billion available to finance projects to improve European transport infrastructure, promote transport safety, develop intelligent transport systems and mitigate the environmental impact of the sector.
"Air transport will greatly benefit from improved synergies and integration"
On signing the grant agreement, INEA Executive Director Dirk Beckers, said: "It is of utmost importance for the European Union to support transport infrastructure projects bringing the continent closer to having one continuous, safe and interconnected transport network.
"In this context air transport will greatly benefit from improved synergies and integration and the EU will help the sector deliver by supporting key projects."
Also present at the signing was Managing Director of SESAR Deployment Manager, Massimo Garbini, who said: "This grant agreement represents a very important step in the actual deployment of SESAR solutions.
"I see these funds as a key factor in realising the full ATM modernisation in Europe and leveraging the expected benefits for the European economy."
Related topics
Related organisations