Frankfurt opens Green Gate to showcase ground handling initiative
Posted: 12 October 2015 | Katie Sadler, Digital Content Producer, International Airport Review
Frankfurt Airport has opened the first 'Green Gate' to showcase low emission ground handling as part of a government funded initiative. E-PORT AN, a German Federal Ministry of Transport and Digital Infrastructure €8 million funded project, has established the first airport Green Gate to reduce emissions produced by ground handling. The E-PORT AN partnership consists […]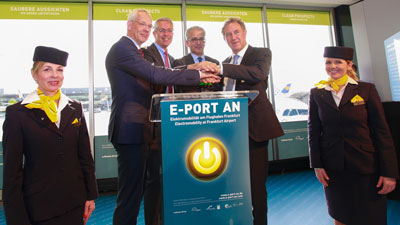 Frankfurt Airport has opened the first 'Green Gate' to showcase low emission ground handling as part of a government funded initiative.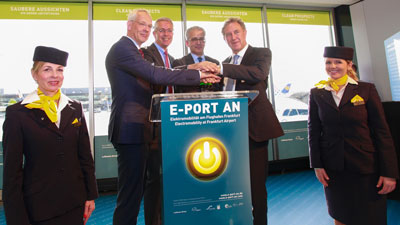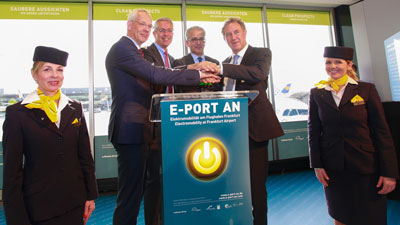 E-PORT AN, a German Federal Ministry of Transport and Digital Infrastructure €8 million funded project, has established the first airport Green Gate to reduce emissions produced by ground handling. The E-PORT AN partnership consists of Fraport AG, Lufthansa Group, the State of Hesse and the Rhine-Main model electro-mobility region.
The efforts of the partnership will be showcased to the public at Lufthansa Gate A15 using models, information panels and animations, including solar-powered passenger airstairs, electric conveyor belt vehicles, hybrid aircraft tugs and electric pallet trucks.
Project identified 20 ground handling services vehicles that could become electric
The project has identified 20 different aircraft service vehicles that can largely be carried out using electric vehicles. E-PORT AN will initially consolidate existing electric vehicles and integrate new electrically driven developments into the aircraft servicing process. As a result it is hoped both noise and emissions will be reduced improving both environmental footprint and working conditions on the apron. In addition, the effect of large-scale use of electric vehicles on the airport´s power grid is being considered. The aim of all E-PORT AN participants is to deploy more electric vehicles and thus come closer to the vision of a 'green' aircraft ground servicing.
Norbert Barthle, Parliamentary State Secretary at the Federal Ministry of Transport and Digital Infrastructure, said: "The use of electric vehicles in aircraft servicing and rolling and towing traffic can substantially reduce noise and emissions at airports. This protects the environment and the staff on the ground. As part of the Rhine-Main model electro-mobility region, the Federal Ministry of Transport and Digital Infrastructure is funding the E-PORT AN project with a total of eight million euros. I am delighted that from today passengers on the spot can inform themselves about this `Green ground service´. Simultaneously incentives for imitation are created, because the added value of electro-mobile aircraft servicing for the future is obvious."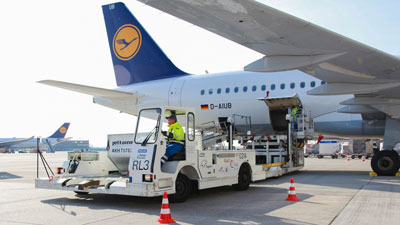 Dr. Stefan Schulte, CEO of Fraport AG added: "In addition to the energy optimisation of the terminal, the use of electric vehicles at the airport is an essential starting point for us to reduce CO2 emissions. Electrically powered vehicles are principally ideal for use at airports with, as here is the case, short-haul traffic. This is especially true for special vehicles for aircraft servicing, such as towing vehicles, ground support equipment or pallet trucks. We want the proportion of special electric vehicles used here on-site to further increase."
Klaus Froese, Board Member, Operations & Hub Frankfurt, Lufthansa German Airlines, said: "We are pleased to present our electric mobility projects at the 'Green Gate'. Thus our passengers can enjoy not only the usual Lufthansa quality on their flight, but beyond that also experience a green ground service. In addition to our investment in particularly efficient and low-noise aircraft, we are also engaged in innovation on the ground. With the TaxiBot, for example, we have a worldwide unique aircraft tug with hybrid drive, which can be controlled on its way to the runway by the pilot himself. Since he pulls the plane without running engines to the takeoff runway, our ground processes will be not only quieter, but we also save fuel and protect the environment."
Further information on the E-PORT AN project can be found here.
Related topics
Related airports
Related organisations