GRU Airport beats all time record in January with 3.8 million passenger traffic
Posted: 25 February 2015 | GRU Airport
26,784 arrivals and departures registered by air operations…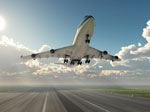 In the first month of 2015, GRU Airport – São Paulo International Airport had an all time passenger traffic record. In January, the airport had 3.805 passengers, 2.509 million for domestic flights and 1.296 million for international flights, an 6% increase compared to last year which had 3.589 million passengers.
Air operations
In January, the airport operated 26,784 arrival and departures, 19,732 domestic flights and 7,052 international flights, an 0.4% increase compared to the same period in 2013.
About the Concessionaire
On February 6, 2012, the consortium made up of Invepar (Investimentos e Participações em Infraestrutura S.A.) and ACSA (Airports Company South Africa) was announced as the winner of Guarulhos International Airport bid, the largest in the country, with 39.5 million passengers in 2014. With the signing of the contract the concessionaire Concessionária do Aeroporto Internacional de Guarulhos S.A was formed, 51% of the shares belonging to Grupar (Grupo Invepar and ACSA) and 49% to Infraero. Of the 51% of the shares in the private initiative, Invepar holds 90% and ACSA 10%.
Related topics
Related airports