Edmonton International Airport (YEG) begins infrastructure upgrades
Edmonton International Airport will be completing important infrastructure upgrades to the departures roadway on Level Two, on 26 September.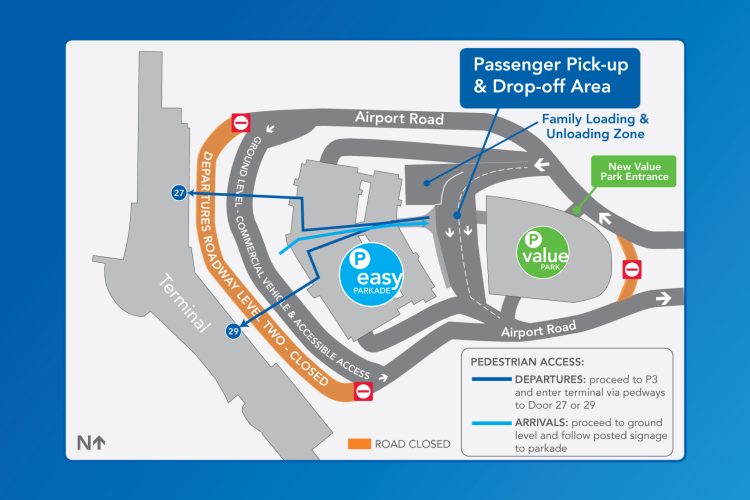 YEG temporary closures. CREDIT: YEG
Edmonton International Airport (YEG) will be completing important infrastructure upgrades to the departures roadway on Level Two starting on 26 September. It will close the elevated roadway and require relocation of the passenger pick-up and drop-off areas.
During the construction period, the departures roadway adjacent to the terminal will be temporarily closed to all traffic. The lower-level arrivals roadway will be closed to personal vehicles and open only to commercial vehicles and passengers requiring accessible access. The relocated passenger pick-up & drop-off area has been established east of the easy parkade, and a new park & wait area is available for those picking up arriving passengers.
Passengers being picked up or dropped off from the relocated passenger pick-up & drop-off area will now have a 5-10 minute walk to and from the terminal, with seasonal shuttle service and heated shelters available from November until April.
"The departures roadway is an important piece of airport infrastructure, and this work is necessary to ensure we continue to provide first-class facilities and services for our passengers, guests and the entire region. We understand the impacts this will have on passengers and have established a variety of supports, including additional signage and team members to help passengers visiting YEG over the course of construction," Myron Keehn, President & CEO, Edmonton International Airport.
Passengers are encouraged to arrive 15 minutes earlier than usual and follow directional signage to navigate these changes. The safety and security of passengers, employees and guests are always top priorities, and YEG appreciates your patience as these important enhancements are being made to our region's airport.
This is a temporary regenerative construction project, and due to the extent of the upgrades needed, this closure will be longer than typical maintenance. YEG is working with their partners to carefully minimise the overall project duration, and construction will continue into 2024. Edmonton-based PCL Construction will be completing the work, and the engineering will be managed by RJC.
Parking at the airport offers a convenient option, with curbside shuttle service to the terminal with Value Park and YEG's parking partner jetSet, and the maintained convenience of the Easy Parkade.