San Antonio Airport's mobile flight simulator lands in community
The airport's mobile flight simulator has been engaging well with the local community of San Antonio.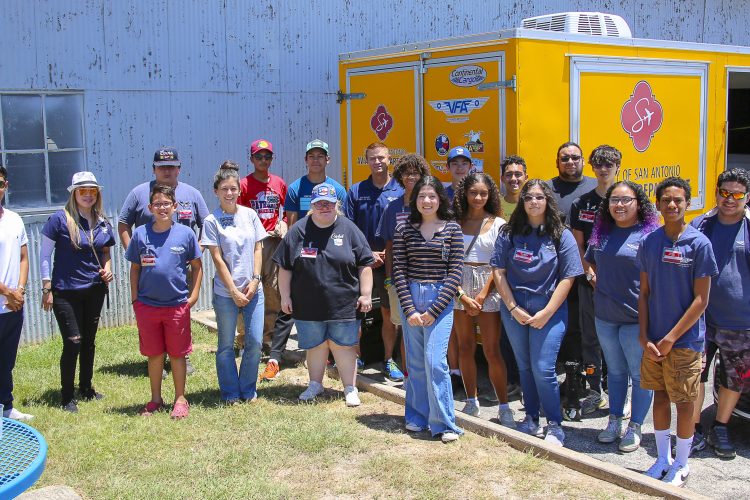 SAT mobile flight simulator. CREDIT: SAN ANTONIO AIRPORT
The San Antonio Airport System's (SAAS) mobile flight simulator has been making stops all over the community and has been giving hundreds of children a unique opportunity to sit in a pilot's seat to experience what it's like to fly a plane.
At a visit last month to the Ella Austin Community Centre, teenagers spent time learning to use the high-tech simulator as they practiced taking off, flying and landing. Earlier this month, the flight simulator returned to Stinson Municipal Airport (SSF) where Commemorative Air Force Cadets had another chance to practice their piloting skills.
"The last time I used it, I got a 68 – but today I got a 90," said seventh grader Bastian Mendoza, reflecting on his progress as he smiled proudly.
Eric Warner, SAAS Aviation Equity Initiative Manager, said the simulator is giving local, historically disadvantaged youth an introductory, hands-on aviation experience.
"The whole idea is to inspire kids to aim high and to see the many career pathways that exist in the aviation industry," Warner said. "There are so many local non-profits that are actively focusing on STEM and many organisations students can join to learn more about how to become a pilot or even to apply for a flight school programme."
Mariana Lozano's recently launched journey is an example of the initiative's success in motion. The 19-year-old was one of nine students nationwide chosen to receive a $36,000 pilot school scholarship to attend the Tuskegee NEXT Summer Flight Programme's eight weeks of training in Chicago over the summer, where she earned her Private Pilot License and her Commercial Drone Pilot Certification. Lozano is the first student from San Antonio ever selected.
Lozano is part of The Lemonade Circle, a non-profit organisation that mentors and empowers girls of colour from the fifth through the 12th grades. Members of that group, along with Tex Hill Wing – Commemorative Air Force, Women in Aviation Alamo City Chapter and the Incarnate Word High School, Girls Inc. of San Antonio and many others had students use their problem-solving skills to participate in multiple higher order thinking tasks that allowed them to complete the simulator build in 2022.
CREDIT: SAN ANTONIO AIRPORT 
"They helped open the boxes to get it all put together," said Josh Smith, a private pilot and aviation advocate. "It was a true community effort with everyone pitching in to make this flight simulator a reality."
Warner said he has big hopes for all the kids he works with as he guides them through how to work the controls and find success.
"People like Mariana are proof to anyone who steps inside the flight simulator trailer that their dreams can come true," Warner said. "We have her picture on display to show other kids that they can find a path to becoming a pilot like she did. This simulator experience is just the start to a fun, exciting and attainable future."