First Lady touts Pittsburgh International Airport's new terminal and workforce initiatives
First Lady Jill Biden flew into Pittsburgh Airport to see first hand the progress being made on the Terminal Modernisation Programme.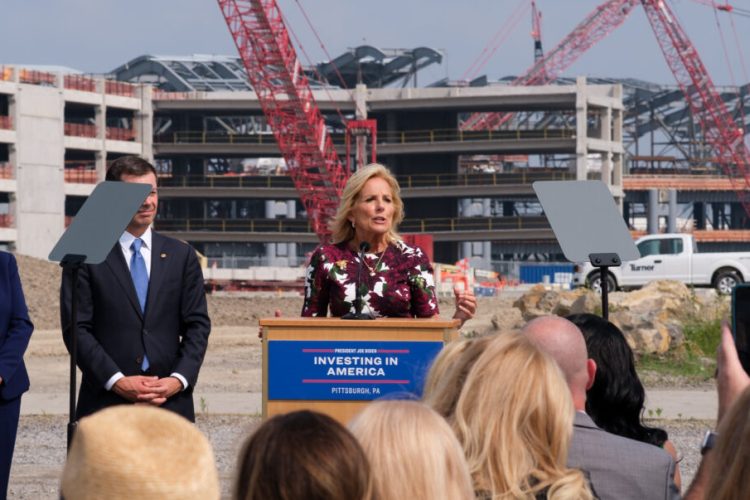 First Lady Dr. Jill Biden delivers remarks on the site of Terminal Modernization Program on July 18, 2023. CREDIT: Pittsburgh International Airport
The new terminal at Pittsburgh International Airport is drawing attention from the White House, two years before its even scheduled to open. First Lady Jill Biden flew into Pittsburgh to see first hand the progress being made on the Terminal Modernisation Programme and learn about the airport's innovative PIT2Work workforce development curriculum—launched three weeks ago—and on-site childcare centre.
"In May, the White House selected Pittsburgh as one of the five cities in what we're calling the Biden Workforce Hub Initiative. Through this initiative, we're focusing on key cities that have received significant investments from both the federal government and private companies," Biden said.
CREDIT: Pittsburgh International Airport 
"Here that means thousands of jobs strengthening and rebuilding Pennsylvania's infrastructure, including modernising Pittsburgh's airport, where we're standing right now. But in order to keep this progress going, employers need more skilled workers."
She pointed to Biden administration programmes that partner with state and local officials, employers, unions, schools and other stakeholders in those regions to ensure a diverse and skilled workforce can meet the demand for labour.
The administration hopes to replicate the models developed in Phoenix; Baltimore; Columbus, Ohio; and Augusta, Georgia, as well as Pittsburgh, for other cities in the future, officials said.
'People are listening'
Biden arrived at the 171st Air Refueling Wing on PIT's airfield just before 16:00. She was joined by Transportation Secretary Pete Buttigieg, Acting Labor Secretary Julie Su, Allegheny County Executive Rich Fitzgerald, Rep. Chris Deluzio and Pittsburgh Mayor Ed Gainey.
PIT CEO Christina Cassotis greeted Biden as she arrived at the terminal construction site. She and Fitzgerald spoke with Biden and the cabinet secretaries about terminal construction, PIT2Work and the childcare centre.
"People are listening and paying attention but it's also because this is just the next thing we've done," Cassotis said. "We've been (focused on) workforce since January 2015 when I came in and said, 'We need to do more for this community out here at the airport to represent the community we serve.' And we need to be doing more for the industry. So I think it's great that we're getting attention, but we've been at this for quite a long time."
The new billion-dollar terminal, funded in part by $23.5 million in federal infrastructure grants as part of the Bipartisan Infrastructure Law passed in 2021, provided a backdrop for Biden, Fitzgerald and others to address nearly 100 guests and media representatives.
"This $1.4 billion investment we're making in infrastructure to modernise Pittsburgh International Airport is not only going to make us more competitive as a region here in Southwestern Pennsylvania, but the workforce that's been building it, with PIT2Work, is something that's really critical," Fitzgerald said.
Speakers noted Pittsburgh's storied history of manufacturing and how it provided a solid foundation for generations of families, and Biden said PIT's initiatives are a step forward in supporting parents and children in the community.
"Employers and local leaders are expanding access to childcare here on the site—I had never even heard of that before, so that really is revolutionary—for apprenticeships and workers so they can pursue the careers they want without having to worry about finding care for their kids," Biden said.
Free training
The PIT2Work programme provides free training in the skills and certifications needed for jobs in the construction industry to a diverse class of men and women. Upon completion, graduates earn letters of recommendation, connections to local unions and are invited to an on-site trades and career fair for union apprenticeship opportunities.
"That's why we're celebrating the fact that the childcare facility, here at this airport, is available to workers through a project labour agreement that also brings an apprenticeship programme," Buttigieg said. "And soon the collaborations with the president's workforce hub will bring new people into these careers."
The programme includes one-on-one mentoring; introduction to various trades via guest speakers; hands-on instruction in tools and equipment at the Joint Apprenticeship Training Centre; construction math for assessment; and various construction certifications to qualify the trainees for continued work.
PIT2Work illustrates the overarching goal of ensuring Americans have equitable access to high-quality training, education, and services that provide a path to a good career without leaving their communities, Su said.
"It's the future of our workforce and how we build our economy from the bottom up and the middle out," Biden said. "A job is so much more than a pay check. It's a path, a way to build the lives we want. And everyone, no matter where they live, can do just that."