MIAA reaches final stage of Star Programme
The Manila International Airport Authority (MIAA) has successfully concluded the Terminal reassignments under its STAR programme.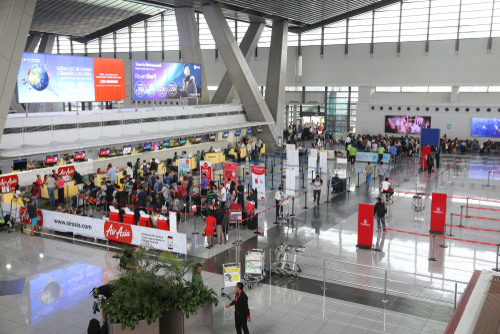 MIAA REACHES FINAL STAGE OF STAR PROGRAMME.
The Manila International Airport Authority (MIAA) has successfully concluded the Terminal reassignments under its Schedule and Terminal Assignment Rationalisation (STAR) programme. AirAsia Philippines and Royal Air Philippines moved their domestic flights to Ninoy Aquino International Airport (NAIA) Terminal 2 while Sunlight Air relocated to NAIA Terminal 4.
Meanwhile, NAIA Terminal 2 now exclusively caters to domestic flights as it is now home to local flights operated by Philippine Airlines (PAL), AirAsia and Royal Air.
"This change benefits both our domestic and international passengers. With NAIA Terminal 2 now handling domestic flights only, CIQ (Customs, Immigration and Quarantine) personnel have been redistributed to NAIA Terminals 1 and 3 as additional deployment. This shall ensure maximum manning of these posts especially at peak hours" MIAA Officer-in-Charge Bryan Co said.
"The removal of the initial screening and clearing of the immigration area of its counters is expected to increase Terminal 2's capacity from 7.5 million to 10 million passengers per year due to additional space," Co added.
On the other hand, passengers at NAIA Terminals 1 and 3 have a wider selection of food and retail stores and more time for duty-free shopping. More and new restaurants are likewise expected to open within the year.
From its previous congested state, NAIA Terminal 4 is now aptly converted into a turbo-prop terminal serving Cebgo, AirSWIFT, and Sunlight Air.
The Terminal reassignments began on 01 December 2022, with the successful transfer of PAL flights to and from the US, Canada, Middle East and Bali to Terminal 1. This was followed by the movement of PAL flights to and from Singapore, Ho Chi Minh, Hanoi, and Phnom Penh on 16 April 2023.
On the same day, Jetstar Asia, Jetstar Japan, China Southern Airlines, Scoot, and STARLUX Airlines likewise completed their transfer to NAIA Terminal 3.
Gulf Air, Thai Airways, Jeju Air, and Ethiopian Airlines relocated to NAIA Terminal 3 on 01 June while PAL finally completed transfer of all its international flights to NAIA Terminal 1 on 16 June.
Meantime that MIAA continues to work towards expanding the capacity of Terminal 2, the domestic operations of Cebu Pacific will remain in Terminals 3 and 4.
MIAA maintains collaboration with Bureau of Immigration
As discussed with the Bureau of Immigration during the planning stages of the Star Programme, the MIAA remains committed to deliver on its promise to expand the immigration area in NAIA Terminal 3.
Terminal 3 started the year with 26 departure Immigration counters and has since then increased to 36 counters in time for the last phase of the STAR programme. An additional eight counters will be made available next week bringing a total of 44 Immigration counters for NAIA's busiest Terminal.
MIAA also aims to complete by December this year, the construction of an immigration annex adjacent to BI's present site, where six four-man counters will be constructed or where 24 more immigration officers can be deployed. Once completed, the annex will serve as processing area for OFWs, PWDs, senior citizens and diplomats. This is MIAA's show of support to the Bureau of Immigration as its partner in bringing higher levels of service to NAIA passengers.
Once finished, the MIAA is set to reconfigure the immigration and final security screening areas interchanging their current locations. This move aims to hasten processing times thereby affording passengers more hours to do pre-boarding shopping or grab a bite at nearby restaurants and food outlets.
"The STAR Programme can be likened to a metamorphosis. We are evolving into a new form – a transformation from what we have been accustomed to all these years. To all of our stakeholders, we seek their continued support. Like in any change, systems are still not perfect altogether but we are striving really hard to reach the ideal state of airport operations," said OIC Bryan Co.