SFO's app for taxi drivers continues to achieve awards
SFO has earned another award TaxiVQ, which allows taxi drivers to enter a virtual queue, reducing wait times and enhancing productivity.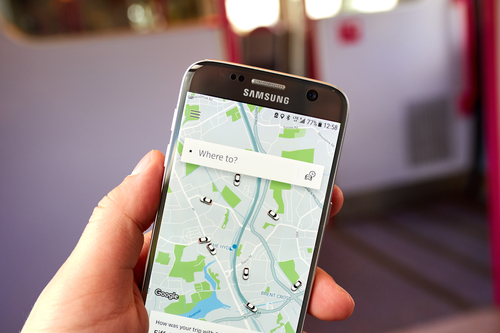 App developed in-house creates virtual queue for taxi drivers, reducing wait times.
The San Francisco International Airport (SFO) has earned another award for an in-house development of a mobile application that allows taxi drivers to enter a virtual queue to serve the airport, reducing wait times and allowing drivers to be more productive. The TaxiVQ app, created by the airport's Information Technology and Telecommunications (ITT) team, was named a 2023 Drexel LeBow Analytics 50 award winner, a national recognition of distinction in analytics.
"At SFO, we embrace the innovation we see throughout the San Francisco Bay Area," said Airport Director Ivar C. Satero. "This inspires us to create solutions that challenge the traditional ground transportation models, enabling drivers to be more efficient while reducing facility requirements. This latest award for the TaxiVQ app is a tribute to the extraordinary people on our SFO team."
Officially launched in February 2022, the TaxiVQ app allows taxi drivers to make a reservation to enter a virtual queue when they are needed at SFO. Until called, drivers can continue taking fares elsewhere, resulting in reduced wait times in airport holding lots. This lets drivers service more pickups per shift, while allowing SFO to recover parking spots previously used for taxis for public use.
TaxiVQ evolves and extends the TaxiQ mobile app, first launched in 2017. TaxiVQ integrates TaxiQ's short trip management to enable the virtual queue reservation process and to respond to call in events. The combination of these features enables an operational model not found in any other taxi management system at any other airport. TaxiVQ adoption was expedited by the user base of TaxiQ who were already familiar with mobile app usage to participate in the airport's taxi programme.
The Drexel LeBow Analytics 50 is a national recognition of analytics distinction, honouring 50 companies using analytics to solve business challenges. Representing the Centre for Business Analytics' focus on academic-industry partnerships at Drexel University's LeBow College of Business, the biennial initiative spotlights best practices and applauds data-driven business impact. Honourees are selected by a panel of faculty and practitioners who evaluate nominations based on the complexity of the business challenge, the analytics solution implemented and the solution's business impact on the company. The award has honoured organisations for using analytics to improve decision making, combat crime, help populations in poverty, enhance athletic performance and improve the carbon footprint of their organisations – among many other achievements. The Centre's most recent honourees include organisations such as Verizon, FICO, Pfizer, Steelcase, DuPont, YMCA and BNY Mellon.
In March 2023, SFO's TaxiVQ app was named a CIO100 winner. Its predecessor, the TaxiQ app, received CIO100 honors in 2017.