New report confirms benefits of downtown airports
Study focuses on Billy Bishop Airport and its impact in shaping Toronto's recovery and opportunity.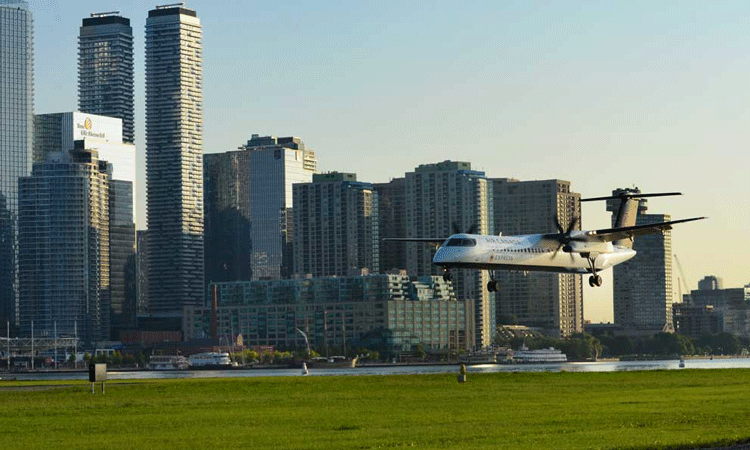 Credit: Billy Bishop Toronto City Airport (YTZ)
A centrally located, city airport is critical to Toronto's continued growth and ambitions, states a new report published by PortsToronto and authored by respected urbanist and University of Toronto Professor, Dr. Richard Florida. The report, titled, Toronto's Downtown Airport: A Powerful Economic Asset in the City's Urban Core, notes that city airports, like Billy Bishop Toronto City Airport, support businesses, provide connectivity and unlock opportunities that make a city world class. These airports also have a key role in building knowledge economies, playing a critical role in the circulation of people and ideas.
The report comes at a time when both Toronto and its downtown airport are at an inflection point. Both are emerging from the pandemic, and as thought goes into what the needs of Toronto will be in the coming decades, consideration should also be given to the role Billy Bishop Airport can play in building the global city that Toronto aspires to be.
"Billy Bishop is central to Toronto's prosperity," states Dr. Richard Florida. "It brings tourists and much needed revenue to the city and its urban core, which are still recovering from the pandemic," he adds. "More importantly, it provides a direct gateway to leading cities such as New York, Washington, D.C., Boston, and Chicago, bolstering Toronto's role as a global talent and tech hub."
The report is available here and highlights the numerous benefits that Billy Bishop Airport brings to Toronto, including:
Providing the city with a unique competitive advantage, placing travellers close to the downtown commercial centre and its cultural amenities — threatened as they are by the shift to remote work and decreased office occupancy.
Billy Bishop Airport is among the largest providers of good, high-paying blue-collar jobs for city residents and workers – jobs that are otherwise declining and in increasingly short supply. Airports also generate significant demand for local services, which in turn create more and better jobs for lower-paid service workers in surrounding retail establishments, hotels, and office facilities.
Billy Bishop Airport is projected to have added roughly $3 billion dollars to Toronto's economy in 2022, up from $2.1 billion in 2019, and an amount which is expected to grow to nearly $4.8 billion by 2025.
According to a 2022 survey, 85 per cent of Toronto residents "agree" that "Billy Bishop Toronto City Airport is a valuable asset for the entire city". A majority of Torontonians also agreed that Billy Bishop Airport is a good use of land (82%); that it makes sense to have an airport downtown (85%); and that the airport plays a central role for business, health care, and job creation for the city (78%).
RJ Steenstra, President & CEO PortsToronto, Owner and Operator of Billy Bishop Toronto City Airport, said: "By all metrics, Billy Bishop Toronto City Airport is an asset and a vital piece of transportation infrastructure that can propel the City of Toronto forward. More specifically, Billy Bishop Airport is a key economic driver; a creator of jobs, a connector of people and businesses; an enabler of tourism; a provider of vital healthcare through Ornge; and a good neighbour, making investments in sustainability and community. The City of Toronto is at an inflection point where it needs to shake-off the pandemic declines, and re-entrench itself as a world-class city. Billy Bishop Airport is on a similar journey and is eager to work with the City of Toronto and the Federal Government on a future vision for the airport."
Neil Pakey, President and CEO, Nieuport Aviation, Billy Bishop Airport Terminal Owner and Operator, said: "A cleaner, greener, quieter downtown airport is an exciting part of Toronto's future as a global city. Now, with the release of the Richard Florida Report, we begin the important task of mapping out that future for Billy Bishop Airport. For many years YTZ has been of critical importance to the City in particular when considering its' rising economic impact. It gives our customers a convenient, easy and friendly airport experience from the heart of the city, and inbound visitors to Toronto an incredible first impression of the City. This report confirms that having a downtown airport, with its simple and quick access to everything in Toronto is a competitive advantage that should continue to be celebrated. Now is the time to lock in Billy Bishop Airport's future as a world-class downtown airport and as a gateway for a world-class city."