London Gatwick traffic results for December 2013
London Gatwick saw 2.3 million passengers use the airport in December 2013…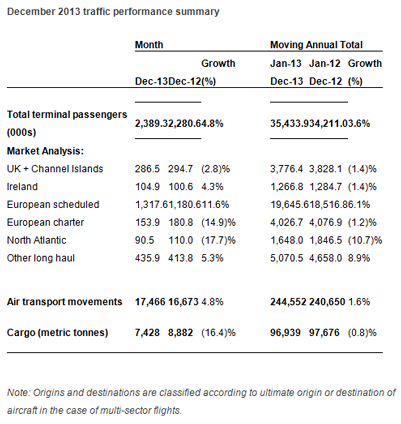 Traffic Commentary
London Gatwick saw 2.3 million passengers use the airport in December 2013; an increase of 4.8% or 108,700 passengers over the prior year.
The growth in European routes continued with over 1.4 million passengers choosing to fly from London Gatwick to Europe – an increase of 7.8% over the prior year. The majority of this growth was on flights to key business routes with destinations such as Moscow, Istanbul, Barcelona and Copenhagen adding over 66,000 passengers. This was tempered by fewer passengers on charter flights to European leisure destinations, reflecting the longer-term market move towards scheduled, low cost airlines.
The reported loss of traffic to North America, down 17.7%, was nearly all due to US Airways ceasing services from London Gatwick earlier in the year. Next summer will see a boost to Gatwick's transatlantic services with the launch of Norwegian's low cost, long haul routes to New York, Los Angeles and Fort Lauderdale.
Other long haul growth was up 5.3%, mainly as a result of increases on leisure routes such as Thailand and Sri Lanka. This was complemented by growth on long haul business routes such as to Dubai and Baghdad. For domestic traffic, increases on the Belfast, Glasgow and Isle of Man routes were offset by the withdrawal of the Manchester route.
Load factors – showing how full the average flight was – were at 79.4%, 1.3 percentage points above the prior year.
Nick Dunn, Chief Financial Officer at London Gatwick said:
"European travel, particularly on business routes, continues to steadily grow at Gatwick with passengers making the most of our extensive choice of key European destinations – the largest on offer of any UK airport. This, coupled with our fast, direct connections into central London and the City, means we are rapidly developing our reputation as a business travel airport in the UK and overseas.
"Alongside European growth, we continue to see strong performance in long haul, particularly on established routes to the Middle East such as Dubai. This route will be further strengthened by December's announcement that Emirates will fly a daily A380 service to Dubai from March."
Related airports
Related people