Gatwick Airport Ltd results for the six months ended 30 September 2013
London Gatwick delivers mid-year results in line with expectations as it continues to compete to attract new airlines and routes…

London Gatwick delivers mid-year results in line with expectations as it continues to compete to attract new airlines and routes, invest in new facilities, and deliver an excellent service to passengers.
Turnover up 10.7% to £360.6 million. Combined with carefully controlled cost management, this resulted in EBITDA up 14.4% to £196.7 million and a profit before tax of £127.3 million.
The unique mix of legacy, charter and low cost carriers at Gatwick drives traffic of 20.8 million passengers reflecting growth of 4.4%.
However, underlying traffic growth is 3.5% as the Olympics reduced traffic by an estimated 170,000 passengers in 2012.
Growth has come mainly from European short haul, particularly from Norwegian which launched 12 new routes, and increasing business services from easyJet and Turkish Airlines.
Gatwick now serves 45 of the top 50 EU business destinations.
Long haul routes outside of North America continue to grow with Vietnam Airlines increasing frequencies.
Gatwick has moved from 12th to 6th place in the European sector of the Airport Service Quality (ASQ) benchmark since 2009, proving that it continues to deliver exceptional customer service and operational performance.
Gatwick's £1 billion investment programme continues. Projects include a £45 million transformation of the South Terminal's retail offering which has contributed to a 2% increase in income per passenger to £3.55.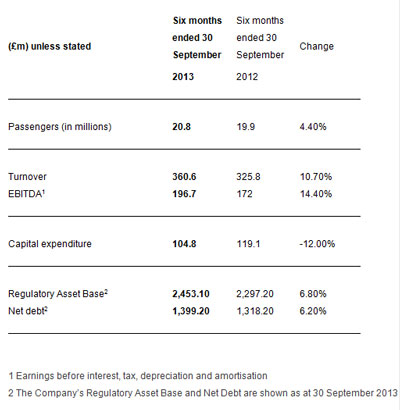 Stewart Wingate, CEO of London Gatwick, said:
"Gatwick will celebrate four years of new ownership in December. In this time we have turned around decades of underinvestment to enable Gatwick to emerge as a competitive, world-class airport. Our results today show a strong financial performance but we must not become complacent. We must continue to invest and ensure we remain competitive.
"Gatwick continues to attract new airlines and routes, which were once only the domain of Heathrow. We now serve routes as diverse – and strategically important for the UK – as Moscow, Beijing, Istanbul and key cities in Vietnam. Substantial growth continues to come from our extensive European network. Next year, we will continue to grow our long haul network with routes including Jakarta, New York and Los Angeles.
"This is just the start of what Gatwick has to offer. A new runway here would deliver the routes that passengers actually want at a better price, more quickly and with significantly less environmental impact. The UK's next runway has got to be at Gatwick."
Related airports
Related people