Passengers at HKIA set new monthly records
Posted: 19 September 2013 | Hong Kong International Airport (HKIA) | No comments yet
During the month, passenger throughput reached 5.6 million, while flight movements recorded 32,395…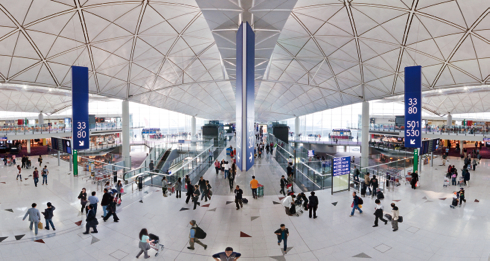 Hong Kong International Airport (HKIA)
Traffic at Hong Kong International Airport (HKIA) continued to grow significantly in August 2013. During the month, passenger throughput reached 5.6 million, while flight movements recorded 32,395 – achieving remarkable year-on-year growth of 8.2% and 6.3%, respectively, and setting new passenger traffic and flight movement records for the second month in a row. Cargo handled also grew by 2.7% over the same month last year to 337,000 tonnes.
The growth in passenger volume in August was driven mainly by visitor traffic and Hong Kong resident traffic, which saw 8% and 13% gains respectively year on year. Passenger traffic to and from Mainland China and South East Asia performed particularly well.
An 8% year-on-year increase in transshipments led the growth in cargo tonnage last month. Cargo throughput to and from Mainland China and South East Asia improved most significantly compared to other key regions.
Stanley Hui Hon-chung, Chief Executive Officer of Airport Authority Hong Kong, said, "We are pleased to see such strong growth in both passengers and flight movements during the peak summer season. SkyPier also set a new monthly record in August 2013, servicing more than 278,000 passengers – a 4.8% increase compared to last August, when the previous record was set.
On the cargo front, Mr Hui noted that cargo performance at HKIA continued to outperform the rest of the world, and has maintained growth for five consecutive months despite the challenging global economic situation. The result is indicative of HKIA's competitiveness as an air cargo centre.
"Recent economic data suggests a slow recovery in manufacturing activities in China, as well as trade with key trading partners. Shipping freight rates have increased on some routes with rising demand expected over the coming seasonal peak months. We therefore remain cautiously optimistic regarding cargo performance in the near future. As part of our on-going capacity expansion plans at HKIA, we are pleased to announce that 28 additional parking stands will become available by end 2014," added Mr Hui.
For the first eight months of 2013, passenger traffic registered a year-on-year increase of 5.6% to 40.0 million. Cargo volume grew by 2.1% to 2.6 million tonnes, while flight movements increased by 5.6% to 245,205 over the same period last year.
On a rolling 12-month basis, the number of passengers reached 58.6 million and 4.08 million tonnes of cargo was handled, representing growth of 4.8% and 3.5% respectively. Flight movements also rose by 5.5% year on year to 364,610.
Related topics
Related airports