New passenger record expected for Faroe Islands airport
Figures released today show a growth of 5.6 per cent compared to the same time in 2012…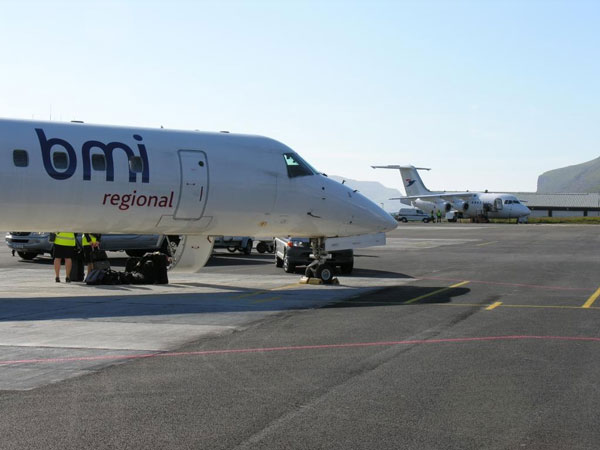 Atlantic Airways and bmi Regional
Year to date passenger-figures indicate that 2013 can become the busiest year ever in the history of the Faroe Islands airport of Vagar. Figures released today show a growth of 5.6 per cent compared to the same time in 2012.
More passengers, but lower frequency
All told some 166.266 passengers have passed through the terminal so far in 2013. This is an in-crease of some 8824 passengers, compared with 2012.
As the number of passengers has risen, the number of frequencies in offseason has declined. This is a result of Atlantic Airways having success in introducing their Airbus 319 number two into service, replacing their aging AVRO-fleet on some routes.
The number of arrival and departures is down by some 14 per cent in total, including helicopter operations to and from Vagar Airport.
"On the behalf of Vagar Airport, we are indeed satisfied with the growing passenger-figures. Keeping in mind that there is no offshore activity in 2013, the growth is pure business- and leisure-traffic," said Jákup Sverri Kass, CEO at Vagar Airport.
Offshore-activities in 2014
After attending a success-full SPE Offshore Europe in Aberdeen earlier this month, Vagar Airport is very excited to be able to assist in any way they can.
"There was much interest to learn about the activities in the Faroese underground by many companies and operators for the forthcoming venture headed by Statoil. Vagar Airport is very eager to assist, accommodate and help in any way we can in order to see that the Statoil-lead operations are a success," the CEO says. The first operation is expected to start by spring 2014.
New terminal and service-buildings in 2014
After the successful introduction new 1799 meter runway and new navigational instruments; work on a new terminal and service-buildings is going according to schedule. Vagar Airport expects that the new terminal and service-buildings will be ready in May/June 2014.